Prisoner absconds from HMP Springhill open jail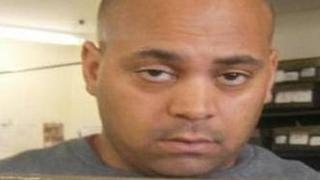 A photo has been released of a prisoner who has absconded from an open jail in Buckinghamshire.
Wayne McLeod, 36, left HMP Springhill in Grendon Underwood some time between 17:15 and 20:15 BST on Sunday, Thames Valley Police said.
Officers believe he could be in the Reading area of Berkshire.
McLeod is described as black, 5ft 11in tall, of heavy build with brown eyes, clean shaven with black hair which was cropped short.
Anyone with information should contact police.