UKIP gains seats and share in South East EU vote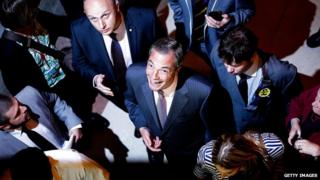 UKIP gained two seats and boosted their share of the vote in the South East as the party topped the European election results in the region.
Leader Nigel Farage was one of four UKIP MEPs elected as the party secured 751,439 votes, up 13.29%.
The Conservative Party came second with 723,571 votes - a 3.84% fall from 2009 - and lost one seat to leave the party with three MEPs.
Lib Dem Catherine Bearder retained one seat for the party - its only success.
Speaking after the result was announced at Southampton's Guildhall, Mr Farage said: "Our people's army will go from here.
"And we will go on next year to the general election with a target strategy and I promise you this - you haven't heard the last of us."
Seats in the European Parliament are allocated according to the D'Hondt system, a type of proportional representation.
The vote saw Catherine Bearder become last remaining English Lib Dem MEP as the party's share of the vote in the South East fell by 6.1%, relegating them to fifth place behind the Greens.
"I'm really sad I've lost some really good, really competent, experienced colleagues tonight.
"They've really stood up and delivered for the UK in the European parliament over the years, so I'm really sad that I won't be going back with them," she said.
The Conservatives lost Marta Andreasen, a former UKIP member, one of their four MEPs in the South East. The party lost votes to UKIP in places like the Isle of Wight, Eastleigh and the New Forest.
Tory MEP Dan Hannan said their showing was "better than we'd hoped".
He said his priority would be getting a referendum on EU membership and urged a pact between Euro-sceptic parties.
"[The EU is] the only customs union on the planet which is declining economically. We need to rejoin those wider growing markets across the oceans which are still enjoying economic growth.
"The quicker we can be trading with China, India, Brazil as an independent country, the more prosperous we'll be.
"It would be a very sad thing if that division between UKIP and Conservative candidates meant we didn't get that referendum."
Keith Taylor of the Green Party, who had taken over the seat of Caroline Lucas when she became a Westminster MP in 2010, won his seat in his own right although the party's share of the vote in the region fell by 2.6%.
"People don't buy into this anti-EU, anti-immigration nasty politics - they want to see a party of hope to turn Europe into a force for the common good and challenge the business as usual politics," he said.