Jahmel Jones shooting: Lecturer Rachel Kenehan has sentence increased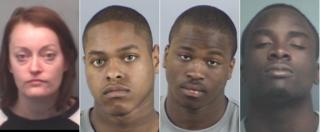 A university lecturer who helped her boyfriend and others escape after they shot dead a rival drug dealer has had her sentence increased by two years.
Rachel Kenehan, 35, assisted boyfriend Pierre Lewis, 21, along with Jemmikai Orlebar-Forbes, 20 and Isaac Boateng, 22, after they killed Jahmel Jones.
Her three-and-a-half year sentence was "unduly lenient", the Court of Appeal ruled.
Kenehan taught sociology and psychology at the London Metropolitan University.
She met Lewis through a prisoner mentoring scheme after he was released from jail in March 2012.
Mr Jones, 23, was shot in the head in St Mary Street, Southampton, on 20 April and died later in hospital.
'Violent gang'
Increasing the sentence, Lady Justice Rafferty said that whilst Kenehan was a "highly educated achiever with an instinct to give back to society", she became involved in a "wicked" attempt to prevent justice "set against a background of class A drugs".
She also went to "considerable trouble as she put in place a developing plan to keep her lover clear of the due process of law".
Solicitor General Oliver Heald, who referred the sentence to the appeal court for review, welcomed the increased sentence.
He said: "Rachel Kenehan made a decision to become involved in a violent criminal gang and her crimes included drug dealing as well as assisting an offender and perverting the course of justice.
"These are serious crimes and ones which I felt were not reflected in the three-and-a-half year sentence she received."
Destroyed evidence
The three men were all jailed for life for the killing in Southampton.
The trial heard how Kenehan assisted Lewis in the supply and transport of the drugs, utilising her knowledge of criminal behaviour gained in studies for a PhD in criminology.
Mr Jones had selected the St Mary's area of Southampton to sell crack cocaine and heroin.
In the process he became a rival of Orlebar-Forbes, Lewis and Boateng.
When they became suspicious that he had robbed them, they sought retribution and shot him in the head.
After the shooting, Kenehan picked up the trio, took them back to London and helped them destroy forensic evidence.