Seago paintings to be exhibited before auction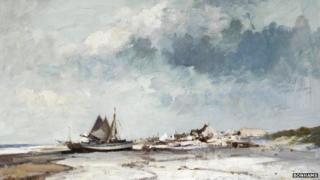 Nine East Anglian paintings by Edward Seago are to go on show in Suffolk before the works are sold at auction.
The exhibition at the end of May at Bonhams in Bury St Edmunds includes coastal scenes of the region and of the River Orwell.
The paintings, part of a larger auction of 19th Century art in London in June, are expected to fetch about £150,000.
Seago, a self-taught artist who was born in Norwich, was best known for landscapes and portraits.
Daniel Wright of Bonhams said "Since we had such a fantastic group of Seago's paintings we thought it was worth bringing them back to his stamping ground."
The painting Preparing to Refloat a Grounded Trawler is the most valuable in the exhibition, and is expected to fetch between £40,000 and £60,000.
Mr Wright said that Seago was widely appreciated across the world and several of his works had been found in South Africa and Canada, including the large oil Shrimp Boats on the Suffolk Coast which will be included in the sale.
The exhibition takes place on 29 and 30 May and 2 June, with the auction at Bonhams in London on 25 June.