Gatwick flight path changes revealed as consultation launched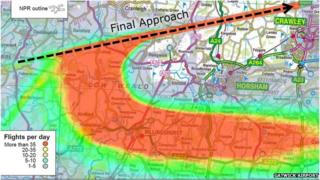 Possible alterations to flight paths to and from Gatwick Airport have been revealed.
The airport said no new communities will be flown over, with the exception of those affected by a potential new departure route to the west of the airport.
A 12-week consultation on the changes will finish on 15 August.
Gatwick has submitted plans for a second runway to the Airports Commission.
Tom Denton, head of corporate responsibility at Gatwick said: "We want to minimise noise for as many people as we possibly can - and where that's not possible - offer respite options as a mitigating measure.
"We urge all local communities to have their say in this second phase so we can benefit as many people as possible."