Fraud charge couple Paul and Sandra Dunham extradited to USA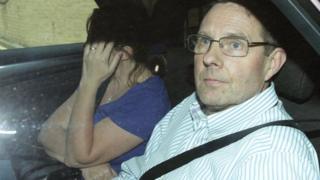 A British couple who lost their fight against extradition to the USA have boarded a flight to face fraud charges, Scotland Yard said.
Paul and Sandra Dunham, both 58 and from Northampton, flew out of Heathrow at 14:15 BST.
The pair were handed over to US Marshalls at Terminal Four by officers from the Met Police's extradition unit.
They went to hospital last week after claiming they had tried to take their own lives to avoid being extradited.
'Hard-working couple'
Both appeared at Westminster Magistrates' Court on Friday where senior district judge Howard Riddle concluded they took drugs deliberately to prevent or delay their facing charges.
Mr Dunham spent the weekend in Wandsworth prison, while Mrs Dunham was held in HMP Holloway.
They were initially arrested on 13 November 2012 on behalf US authorities.
Since then they have fought through the courts to resist extradition and their battle reached a crisis point last week.
It is believed they were held at Heathrow Airport overnight after it was expected they would be extradited on Wednesday.
Solicitor Karen Todner said the pair are a "hard-working couple from Northamptonshire who strenuously deny the allegations against them".
'Unjust system'
Defeat in the High Court last month confirmed they would stand trial in the US over charges relating to Mr Dunham's company, Pace.
He is the former chief executive, president and a 20% shareholder in a company which manufactured soldering irons for the electronics industry.
He was indicted on 13 counts of fraud and money laundering by a grand jury in Greenbelt, Maryland, in December 2011.
Mrs Dunham is accused of eight counts of fraud for allegedly aiding and abetting him. The couple deny any wrongdoing.
The US Attorney's office in Maryland has confirmed the couple will appear before a district court on Friday.
A sealed indictment will be formally opened and put to the couple during this hearing.
The magistrate judge will then decide whether to grant bail or to detain them.
The BBC understands Mr Dunham will be represented by Maryland lawyer Gary Proctor while his wife will be represented by a public defender.
Melanie Riley, of campaigners Friends Extradited, said: "Another sad day. Two more British victims of an unjust extradition system have just been parcelled off.
"British MPs might now quietly reflect on this treatment and examine their consciences.
"Is this is a system of which they can be proud? It's a regime whose flaws are self-evident."