Kent youth worker who drowned saving son 'a hero'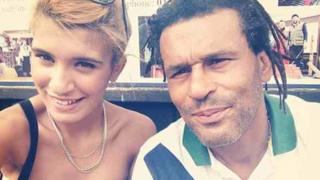 A youth worker who died saving his son from the sea off Jamaica would have done the same for anyone, a colleague at the charity where he worked said.
Tony Wilkinson, from Kent, drowned after swimming to help the four-year-old while on holiday in Calabash Bay.
He was an outreach worker with charity Kids Company which helps young people in inner-city London.
Luke Forde said the 49-year-old was a "hero" and used to be out on the streets "saving people's lives".
Father figure
He said: "Even if it hadn't been his son he would have been in there anyway that is the type of person Tony is.
"If he sees someone in need of help or needing support, that is Tony, so it doesn't surprise me whatsoever."
Mr Forde said he had come from a similar background to many of the young people he helped and for them he was a father figure.
Mr Wilkinson was the partner of award-winning Guardian journalist Decca Aitkenhead.
Book of condolence
The couple and their two sons, aged four and three, were on holiday on the south coast of the country on 15 May and were walking along the beach when one of the children started paddling.
The child got pulled into the sea and Mr Wilkinson swam out and rescued him.
The boy's mother brought him to shore, but the current was too strong and Mr Wilkinson drowned.
He started working for Kids Company in 2009, which specialises in helping vulnerable children and teenagers in London, especially those associated with gangs.
The charity has opened a book of condolence.