Two men on run from open prison in Doncaster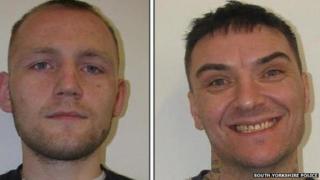 Two men have absconded from an open prison in South Yorkshire.
Damien Burns, 39, from Scarborough, North Yorkshire, and Dean Jackson, 27, from Newcastle-upon-Tyne, left Hatfield Prison in Doncaster on Monday evening.
Burns was serving an indeterminate sentence, imposed in 2007 for a knifepoint robbery. Jackson was on remand awaiting sentence for theft.
Police said the men had no connection to South Yorkshire and might return to the areas they originally came from.
Speaking after the men went on the run, justice secretary Chris Grayling said: "Absconds have reached record lows under this Government but I take each and every incident seriously. I have already ordered immediate changes to tighten up the system as a matter of urgency.
"With immediate effect, prisoners will no longer be transferred to open conditions or allowed out on temporary release if they have previously absconded, and there will also be no unrestricted 'town leave' .
"I am clear that open prisons and temporary licence remains an important tool in rehabilitating long term offenders but not at the expense of public safety."