Tracey Emin and swimmer honoured by RNLI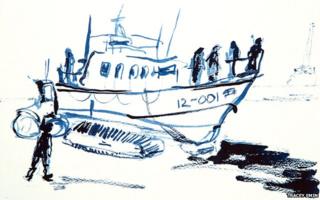 Kent artist Tracey Emin and an East Sussex cross-Channel swimmer are to be honoured by the RNLI after together raising more than £100,000.
James Stephenson who grew up in Hastings swam the Channel in 2013 and approached Emin to create a painting to raise money for the lifeboat charity.
Emin's original painting of Margate's lifeboat preparing for launch was sold for £30,000.
She then sold 250 prints for £350 each, mainly to Mr Stephenson's friends.
Emin said: "From my personal ideas about the RNLI, growing up with it and the fact I know it is a fantastic charity, it was really easy for me and I knew exactly what I wanted to do.
"I met James and knew he did this incredibly crazy, mad, brilliant thing of swimming across the Channel for the RNLI and it was just really commendable and really brave."
'Always part of me'
Mr Stephenson said: "It's fantastic to think that we've made a difference and we've been able to help the RNLI. It's a huge achievement and in terms of the swim, I'm very pleased that we made it.
"The RNLI do an amazing job and I know how tough the sea can be."
The pair are to be honoured with the RNLI's Innovation Award at a ceremony on Thursday in London's Barbican Centre.
Emin said: "It's nice to be thanked for what you do but I didn't do it to be thanked, I did it to thank the RNLI. It's always been part of me - something I've grown up with."