Academy school chain becomes first to close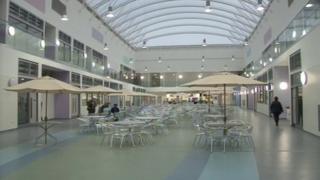 The Department for Education (DfE) has confirmed that Prospects Academies Trust, which runs six schools, will be the first academy chain to close.
The trust has schools in Devon, Gloucestershire and East Sussex.
The government says it is looking for sponsors to take them over, and pupils will not be disrupted.
Dr Mary Bousted, general secretary of the Association of Teachers and Lecturers, has urged the government to avoid "a kind of fire sale".
The union, which represents 40 staff in the schools, has called for a proper system of dealing with the failure of academy chains.
'Underperformance'
Last week Prospects Academies Trust said it had been a "very difficult" year for supporting its academies which are spread out over southern England.
Three are in the town of Paignton in Devon, while others are in Bexhill, Gloucester, and the Forest of Dean.
The trust's head office is in south-east London.
The DfE said it was "aware" of the trust's decision to withdraw as an academy sponsor.
"Two of the trust's schools are inadequate and it is disappointing that pupils are not getting the education they deserve," said a spokesman.
"We are working closely with the trust and schools to ensure they are all re-brokered with excellent sponsors and pupils' education is not disrupted. We will look to new sponsors to ensure that pupils receive a higher standard of education.
"We are tough on underperformance in all types of school, including academies.
"When we have concerns about the performance of academy sponsors, we act quickly, for example by stopping them from taking on new projects, so that they focus on their existing schools, and in some cases re-brokering their schools with other sponsors."
'Exciting opportunity'
In a statement sent to the academies last week, Prospects Academies Trust chairman Peter Evans said: "We will be working with the DfE and yourselves to find a way forward to ensure an orderly transfer to alternative governance arrangements.
"During this transition period we will ensure that the impact on your academies is minimised."
Jane English, principal of Paignton Community and Sports Academy, writing on the school's website, described the change as an "exciting opportunity".
"This change will not impact on the quality of education we provide in the academy. Please be assured that it is business as usual," she wrote.
Dr Bousted said the system for dealing with academy closures needs to include "provision for moving the school back into local authority control if parents and staff believe this is the best solution".
She warned that academy chain failures were stressful for pupils and parents and "also very difficult for staff who may want to look for new jobs as soon as they can and, thus add to the school's problems."
Christine Blower, general secretary of the National Union of Teachers, described the free school and academies programme as "an ill-thought-out gamble with children's education.
"It is time that handing over schools to unaccountable private companies ended. Public money is being squandered and education is suffering as a result.
"All state funded schools should be under the umbrella of the local authority to ensure that there are proper checks and balances in place," said Ms Blower.