Joss Stone death plotters win appeal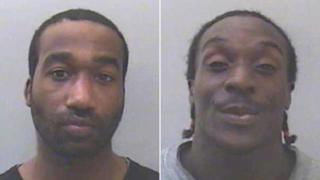 Two men convicted of plotting to kill UK singer Joss Stone have won appeals that will reduce their jail terms.
Junior Bradshaw, 33, and Kevin Liverpool, 36, both from Manchester were convicted of conspiracy to murder and rob the singer at her Devon home.
Liverpool, originally given life with a minimum term of 10 years and eight months, has had the tariff reduced to six-and-a-half years.
Bradshaw's 18-year sentence was cut to 10 years by Court of Appeal judges.
The men, both of St Stephen's Close, Longsight, had previously staked out Miss Stone's home and were on their way to attack her when they were arrested in Cullompton, Devon, in June 2011.
Miss Stone was at home in Ashill when the pair were detained, Exeter Crown Court heard during their trial.
They were both found guilty of conspiracy to murder and conspiracy to rob, following the three-week hearing.
The pair had loaded a car with two hammers, gaffer tape, a metal spike, lock knives, gloves and a balaclava before they drove to Devon, on June 13, 2011.
However, the trial was told the pair crashed their car north of Bristol and then got lost as they hunted for Miss Stone's home.
Residents who spotted their damaged car being driven in a suspicious manner called police and the pair were stopped and arrested .
At the defendants' appeal hearing, lawyers representing Liverpool argued a life sentence was wrong, while Bradshaw's legal team said he had been enlisted into the plan by Liverpool.
Giving the court's judgment, Lady Justice Macur said it was "clear" Liverpool's life term was justified but given the lack of physical and psychological harm caused, the minimum term was too long.
She said that as Bradshaw was treated "as a foot soldier", a reduction in sentence should also be made.
Given time spent in custody and the shorter jail terms, Liverpool could be free by 2017 and Bradshaw by 2016.