Former sniper Danny Nightingale loses bid to overturn conviction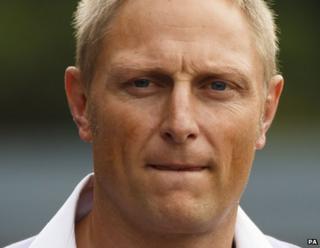 Former SAS sniper Danny Nightingale has lost his latest bid against his conviction for illegally possessing a gun and ammunition.
The special forces soldier, from Crewe, Cheshire, had hoped to lodge an appeal against the two-year suspended sentence imposed by a military court last July.
He was found guilty of having a 9mm Glock pistol and over 300 rounds of ammunition in his shared army house.
The 39-year-old's latest appeal bid was dismissed by three judges.
'Considerable evidence'
Rejecting his case at the Court Martial Appeal Court in London on Tuesday, Lord Chief Justice Lord Thomas said he could not see "in any way" how his proposed grounds of appeal would affect the conviction.
Sitting with Mr Justice Hickinbottom and Mr Justice Jeremy Baker, he said there was a "considerable amount" of evidence before the court martial which supported the guilty verdict.
Nightingale claimed he had no knowledge of the pistol, which was found in a wardrobe in his quarters near the SAS's Hereford base, and ammunition discovered under his bed in a plastic box.
The sergeant was originally jailed for 18 months in November 2012, but the guilty plea was quashed and a retrial ordered.
He was convicted for a second time by a court in Bulford, Wiltshire last year and sentenced to two years in military detention, suspended for 12 months.
In December he was refused permission to appeal by a judge.