South West Conservatives' Euro UKIP anxieties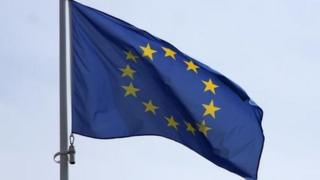 European elections in the South West take in not just the government region stretching from Cornwall to Gloucestershire, but also, since 2009, Gibraltar as well.
This combined area elects six MEPs - currently three Conservatives, two UKIP and one Liberal Democrat.
For the last two European elections in the region - in 2004 and 2009 - the dominant theme has been the rise of UKIP.
UKIP won its first seat in the 1999 election, though its successful candidate became an Independent MEP the following year.
Different voting behaviour
UKIP's big breakthrough came in 2004 when the party seized two of the seven seats then available. It then held on to its two seats in 2009 after the total number of seats had been reduced to six.
This time the party will be hoping to build on its more recent - but still modest - success in local elections to gain another seat and top the poll in the South West.
As things stand - and despite the inroads made by UKIP over the last decade - the Conservatives are still the dominant force, with half the available seats.
As one of the country's traditional two big parties, and the leading force in the coalition government, they will be anxious not to be beaten into second place by UKIP this time.
While many voters have tended to behave very differently in European and domestic elections (as the big parties will doubtless be reminding us if they come off badly compared to UKIP), the European poll is the last major electoral contest before the General Election next May.
Labour recovery hopes
Labour were the big losers in the South West in 2009. With the number of seats reduced from seven to six, all of the other parties managed to hold on to exactly the same number of seats, while Labour's single MEP was squeezed out.
As if that was not bad enough, the party was also pushed into fifth place by the Greens.
However, the last election took place during what turned out to be the dying days of Labour's 13 years in power and just 12 months before their bruising defeat in the 2010 General Election. This time the party will be hoping to regain its lost seat.
The Liberal Democrats' one veteran MEP in the region has been in post since 1994.
The Liberal Democrats haven't generally tended to do very well in European elections, though. This time they will be approaching the electorate for the first time as a party of government.