Merseyside day release missing murderer arrested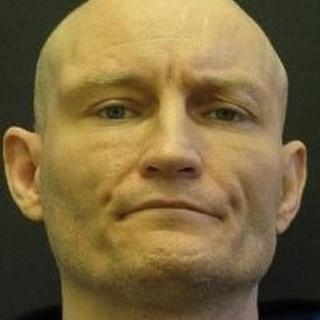 A murderer who absconded while on day release from a jail in Merseyside has been arrested in Greater Manchester.
Arnold Pickering, 44, from Chadderton, Oldham, was found at an address in town at about 11:45 BST and is in police custody.
He was wanted by police after he failed to return to HMP Kennet in Maghull on Saturday.
Pickering is serving a life sentence after being convicted of a murder in 1991, police said.
'Tightening up rules'
It was the third time Pickering had gone on the run. He was arrested on suspicion of being unlawfully at large.
Justice Secretary Chris Grayling said the government was in the process of "tightening up the rules" and said they would be put in place soon.
Changes such as significant restrictions on who is granted temporary release, tightening up of monitoring arrangements and abolishing any leave without a clear link to rehabilitation were due to be introduced on 1 October.
Mr Grayling said: "We've got a system where most people treat it properly and appropriately and there are very few people who cause trouble.
"But the reality is we have had a number of serious incidents with people out on temporary licence."
The Ministry of Justice said other areas of the reforms - such as tagging when the technology was available - would be introduced by the autumn.
But shadow justice secretary Sadiq Khan said corners were being cut and mistakes made.
He said temporary release and open prisons had "an important role to play" in rehabilitation but they needed to be "properly resourced".
Mr Khan said: "When you have prison officers being cut, prisons being closed, overcrowding, people not being invested in, you'll have these sorts of mistakes being made and we all pay the price when they do.
"They are starting to get to grips with the challenges but I'm not sure they have got the solutions."
Risk-assessed
Peter McParlin, chairman of the Prison Officers Association, said the system was under "immense pressure".
"We have been saying for many years now that we have overcrowding in the prison estate. People are being put into open conditions who are unsuitable for open conditions," he said.
Pickering also previously escaped from HMP Manchester (then called Strangeways) before he went on to stab a man to death in Oldham in 1990. He was given a life sentence and ordered to serve a minimum of 18 years.
A second inmate, Thomas Moffett, 51, from Blackburn, Lancashire also went missing on Saturday but was detained by police on Sunday.
The prisoners had failed to return to the jail by 16:30 BST.
They were risk-assessed as suitable for temporary release on licence by the Ministry of Justice, Merseyside Police said.
The disappearances came days after Michael Wheatley, 55, known as the "Skull Cracker" was charged with carrying out an armed robbery while being on the run from an open prison in Kent.