Absconded killer Arnold Pickering still on the run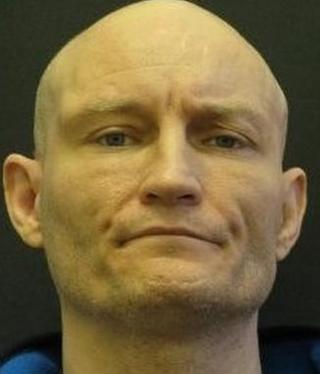 A killer who absconded while on day release is still on the run after failing to return to jail.
It is the third time Arnold Pickering, 44, from Greater Manchester, has gone on the run. He failed to return to Kennet Prison in Liverpool on Saturday.
A second inmate Thomas Moffett, 51, from Blackburn, who also disappeared, has been arrested on suspicion of being unlawfully at large.
The government said the system would be tightened up within the next month.
'Too lax'
Justice Secretary Chris Grayling said changes had been due to be introduced on 1 October but would now be put in place sooner.
"I have to say that less than one per cent of people who go into open prisons abscond, but we are in the middle of tightening up the system," he said.
"There have been a number of instances in recent months that I find unacceptable and in future prisoners should not expect to find the same system that's perhaps been there for the last, well many, many years."
He said he now intended to put a stop to prisoners who have absconded returning to open conditions as part of the changes.
Mr Grayling said he was also going to bring in tighter risk assessments for those who have committed violent offences, tagging for everyone released on temporary licence and "crucially as in this case an end to town leave".
He said: "If people are coming out on temporary licence it should be to a purposeful activity; it should not be to wander around town all day."
Prisons minister Jeremy Wright also said this would be looked at "as a matter of urgency".
"I am not prepared to see public safety compromised," he said.
"The system for allowing prisoners out on temporary licence has been too lax up till now and we are making major changes to address this."
Pickering was jailed for life in 1991 after killing a man in Oldham.
He last absconded in December 2009 when he was let out on day release from HMP Kirkham to take part in a Prison Service project in which prisoners emptied bins for Manchester City Council.
In that case he handed himself in four days later in Motherwell, Scotland.
Pickering also previously escaped from HMP Manchester (then called Strangeways) before he went on to stab a man to death in Oldham in 1990. He was given a life sentence and ordered to serve a minimum of 18 years.
Merseyside Police said both men left the Category C prison in Maghull at about 09:00 BST on Saturday on day release and had been due back at 16:30 BST.
The disappearances come weeks after Michael Wheatley, 55, known as the "Skull Cracker" was charged with carrying out an armed robbery after allegedly going on the run from an open prison in Kent.
'Failed the public'
Peter McParlin, chairman of the Prison Officers Association, said the system was under "immense pressure".
"We have overcrowding in the prison estate, people are being put into open conditions who are unsuitable for open conditions. Twenty prisons have closed in the last three years and prison staff numbers have reduced by 6000 since 2010.
"And it's clear to me that the tick-box mentality that goes into transferring prisoners to open conditions has failed the public."
Shadow justice secretary Sadiq Khan expressed concern that public safety was being put at risk through the release of the wrong prisoners.
"This further incident, coming only a matter of weeks after the Michael Wheatley fiasco, will cause the public huge concern," he said.
Conservative backbencher Philip Davies, the MP for Shipley, said: "It is an absolute scandal in the prison system. How on earth people like this can ever be given temporary release from prison on licence is beyond me."