Stuart Hall cleared of rape but convicted of indecent assault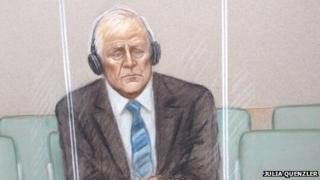 Ex-BBC broadcaster Stuart Hall has been cleared of raping two girls.
Hall, 84, from Wilmslow, Cheshire, was found not guilty of 15 charges of rape and four counts of indecent assault by a jury at Preston Crown Court.
He was accused of abusing the girls from the age of 12 between 1976 and 1981. Jurors found him guilty of one count of indecent assault.
The former It's a Knockout presenter said the sex was consensual, apart from one occasion which "never happened".
At the beginning of the trial he admitted indecently assaulting one woman when she was aged 13.
The jury reached a majority decision that he was guilty of a separate indecent assault against the same woman.
No reaction
Mr Hall was charged under the Sexual Offences Act 1956, where he could be charged with rape, indecent assault and unlawful sex with a girl under 16.
The jury was told "no proceedings can be brought" in relation to unlawful sex with a girl aged under 16 "after 12 months had expired from the date".
But the 12-month time limit did not apply when the charges were rape or indecent assault, jurors heard.
The judge, Mr Justice Turner, said "therefore it is permissible" for the prosecution to bring the charges against Hall.
The Sexual Offences Act 1956 was amended in 2003.
Hall showed no reaction as the jury of eight women and four men delivered the verdicts after more than seven hours of deliberation.
He mouthed "thank you" to the jurors as he was led away to the cells to continue serving his sentence for earlier offences.
'Respect the verdicts'
A BBC spokeswoman said the corporation was "appalled by the crimes of Stuart Hall".
She said a "detailed investigation into Hall's conduct at the BBC" was being conducted by Dame Linda Dobbs and her conclusions would be published as part of Dame Janet Smith's review of former BBC DJ Jimmy Savile's conduct later in the year.
A Crown Prosecution Service spokesman said: "The jury has listened to all the evidence from the prosecution and defence and we of course respect the verdicts they have reached."
Det Ch Insp Neil Esseen said Lancashire Constabulary had "worked closely with the Crown Prosecution Service throughout and all of the evidence was subject to careful scrutiny before a decision was taken to charge, in the belief that there was a realistic prospect of conviction".
"Whenever anyone comes forward to report allegations of a sexual nature, it is absolutely right that we carry out a professional investigation, which is what we have done in this case.
"We have recognised and considered the views and needs of the victims throughout this investigation and we will continue to offer them whatever support they need," he said.
Hall is serving a 30-month jail term after he pleaded guilty to indecently assaulting 13 other girls, one as young as nine.
The abuse occurred between 1967 and 1985. His 15-month sentence was later extended at the Court of Appeal.
He will be sentenced for the new convictions on 23 May.