Shropshire 999 calls could go outside county in cuts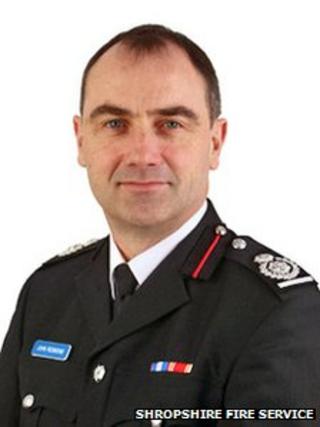 Shropshire's fire chief has claimed he could save £300,000 a year if 999 calls were handled outside the county.
Shropshire Fire and Rescue Service's control room could merge with Warwickshire Police or Hereford and Worcester fire service.
John Redmond said the brigade needs to save £1.7m from its £20m budget and has launched a public consultation.
The Fire Brigades Union said the proposal was misguided and could have a "severe" impact on the service.
Matt Lamb, from the union, said: "The fire control in Shropshire is integral to the whole service and to merge it presents a risk to the service and to firefighters on the front line."
He said 16 people currently work in the Shrewsbury centre, working shifts across 24 hours, as a "small number of posts that do an invaluable job".
'Benefit both'
Mr Redmond said: "If we can deliver the service in collaboration with other organisations, albeit outside our boundaries, we can deliver the same service, or better, and we can probably halve the costs and do it with probably half the number of people that we're doing it with across the two or three organisations at the moment."
The proposal would see Shropshire's control room close between 2015 and 2020.
West Mercia and Warwickshire's police forces are already in a strategic alliance and are planning to merge control rooms.
Warwickshire Police said official talks were not underway with Shropshire Fire and Rescue Service but it would consider a further merger.
Hereford and Worcester Fire and Rescue Service said it already has arrangements with Shropshire's control room to support very busy periods and will see "if we can work closer together in the future".