Boy, 9, missing from Tottenham playground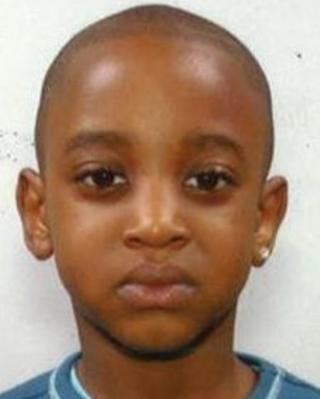 Police are searching for a missing nine-year-old boy who was last seen in a playground in north London.
Daequan George was last spotted in Stamford Close, Tottenham at 20:00 BST on Thursday.
The boy is described as black, 4ft 8ins tall, of medium build with short black hair.
A spokesperson for the Metropolitan Police said: "Given his age, officers are growing increasingly concerned for his wellbeing."
'Not in trouble'
Scotland Yard said Daequan had gone missing before, but had never stayed away from home for a whole night.
Det Supt Stephen Clayman said: "Daequan isn't in any trouble. His mum wants to make sure he's safe - we want to make sure he's safe.
"So the message is - get in touch, make sure you're OK and we can reunite [you] with your family."
When he was last seen, Daequan was wearing yellow or rust-coloured jeans, a black zip-up hooded top with leather patches and a purple and yellow hat.
He had on a pair of black Nike trainers with a green 'tick' on the tongues.