Tour de France Grand Depart diary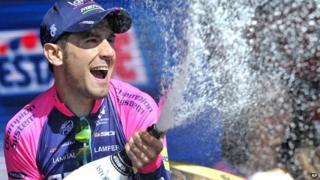 With the world's biggest bike race starting in Leeds on 5 July, BBC Yorkshire's Tour de France correspondent Matt Slater rounds up the best of the gossip, opinion and stories, on and off the bike, and also tries to explain some of cycling's unique lingo.
TOP STORIES
What's cooking? After two days of beer news, it is only right that I address one of the other major food groups, sausages, although these have beer in them, too. Ripon-based R & J butchers have teamed up with Keighley's finest, Timothy Taylor, to produce French-style bangers for your delectation in Taylor's pubs. I will be addressing cakes and crisps in future diaries.
Full story: meatinfo.co.uk
Tour party Salford's self-styled "People's Tenor" Russell Watson will headline a "Grand Departy" concert on Friday 4 July at York's Huntington Stadium. Joining Watson will be "X Factor favourites" Rough Copy, Union J and some other pop combos I have never heard of, but also some that I have heard of, Altered Images, Brother Beyond and The Blow Monkeys, for example. Ten thousand tickets will go on sale from Friday, with a single ticket costing £29.50, a posh ticket £35, or £100 for a family of four.
Full story: The Press
Not cricket! I am aware that some people are less excited about the imminent arrival of "the world's largest annual sporting event" (according to its owners Amaury Sport Organisation) than I am, but even the grouches at The Guardian's county cricket blog could not help themselves but get into the Grand Departy (thank you, York) mood on Wednesday. Having sniffed at the "Grand Bloody Depart" in one sentence, two paragraphs later they were waxing almost lyrical at the prospect of riders climbing the Cote de Holme Moss, Cote de Ripponden and Cote de Blubberhouses. And then they returned to the cricket - only kidding, plenty of room for both.
Full story: The Guardian
CYCLING ROUND-UP
It was joy unbound at the Giro on Wednesday where Diego Ulissi became the first Italian stage-winner in this edition of their national passion play. The 24-year-old powered away from an elite group on the climb to Viggiano to record the second Giro win of his career. Australian Michael Matthews put in another fine ride to retain the overall lead he has held since the second stage, but it was the display of compatriot Cadel Evans that provoked the biggest post-race buzz. The 2011 Tour winner looks in fine fettle, finishing second on the stage to leap to third in the general classification. With Wiggo rediscovering his mojo in California, could Cuddles be back too?
TWEET OF THE DAY
"Many have asked for the Team Sky rice cakes recipe, so here it is… #doingthelittlethings"
Team Sky kit supplier Rapha reveals how to make the silver foil-wrapped snacks that power Chris Froome and the boys on to Grand Tour glory.
A TO Z OF LE TOUR
H is for…
Hors categorie - French for "out of", or "beyond", category, this term refers to the enormous mountains the riders must get over on the road to Paris. Most of the significant climbs in the Tour route are given a 1 to 4 score, with 1 being the hardest, 4 the easiest. "HC" climbs are, to paraphrase Spinal Tap, one harder. The harder the climb, the more King of the Mountain competition points are on offer. For reference, the hardest ascent on the two Yorkshire stages, Holme Moss, is only a Cat 2 climb.
Hors delai - This is what can happen if you have to climb too many HCs: you miss the time cut on the stage and you are "out of time" and out of the race. The time limit for a specific stage is a percentage of the winner's time, and it is set by the commissaires (race referees) each day. What the time limit is on a tough mountain stage is one of the press room's favourite guessing games, and factors such as the weather, the brilliance of the winner and the quality of the chief commissaire's breakfast, all come into play.
TODAY'S TOUR TRIVIA
Continuing with the H-theme, it is time to address one of the key themes at recent Tours de France: when will a Frenchman win it again? When Bernard "The Badger" Hinault won his fifth Tour in 1985 - to match the records of Jacques Anquetil and Eddy Merckx - nobody thought France would still be waiting for another home-grown hero in 2014. After all, Bernard Thevenet had won in 1975 and 1977, before Hinault claimed four in a row. Then his apparent successor Laurent Fignon won two on the bounce, before Hinault returned to claim his fifth. France had no warning of the drought to come.
But after Hinault came American Greg LeMond, then Ireland's Stephen Roche, followed by Pedro Delgado of Spain, then LeMond again, twice. After that we were into the five-year reign of Spain's Miguel Indurain, a spell that was broken by a Dane, who was followed by a German, then an Italian, and then came Lance Armstrong. Since then we have had Spaniards, a Luxembourger, an Aussie and two Brits…but no Frenchmen, and they have not even been very close to winning in recent years. Things have not quite reached British tennis and Wimbledon status yet, but we will have a reasonable chance of ending our 12-month wait for glory in July. Can French cycling say the same?