Devon and Cornwall air ambulance in night landing woe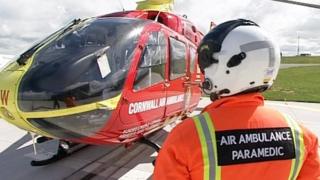 New air ambulances in Devon and Cornwall able to fly in darkness will not be able to make night-time landings at the region's major trauma centre.
The Derriford Hospital helipad in Plymouth does not meet air safety standards for landing at night.
Plymouth Hospitals Trust say they have planning permission to build a new helipad but are looking for funding.
Tom Matthews from Cornwall Air Ambulance said the government should pay for the upgrade.
He said: "Derriford's current helipad facilities are inadequate and will not enable us to land at that hospital at night, leaving us unable to take our patients to the best hospital for their condition.
"Without this helipad, patients from Cornwall and Devon requiring specialist trauma treatment will be unable to access the best treatment if their illness or injury occurs in the hours of darkness."
Funding pledge
A spokesperson for NHS England said there was no requirement for major trauma centres to have a helipad.
"Given that many helimed services do not fly at night or in bad weather, the national specification for services is based on land ambulance transfer times."
Cornwall Air Ambulance is involved in about 800 trips to hospital every year and about 60% are to Derriford.
From December Cornwall will have two new air ambulances able to fly in darkness and Devon will follow a year later.
The Plymouth Hospitals NHS Trust says it has a pledge of 50% of the capital cost of a new helipad from the national charity HELP but is "currently working to determine how the other 50% can be funded".
Nigel Hare, Operations Director for Devon Air Ambulance Trust said he was pleased the Plymouth trust was working with his service on the new helipad.
"If however the NHS Trust is unable for whatever reason to construct the new helipad this would cause us significant concern as our ability to bring patients to the regional trauma centre would no longer be possible," he said.