Edward VIII vandalised 'love seat' for sale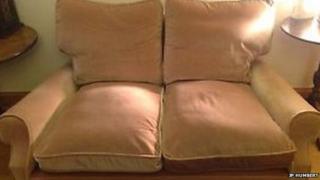 A pink velvet settee which may have played a part in Britain's abdication crisis could fetch £3,000 at auction.
It was owned by Lady Thelma Furness, girlfriend of Edward, Prince of Wales.
She introduced the future Edward Vlll to Wallis Simpson and the three often talked together on the sofa, Northamptonshire-based auctioneer Jonathan Humbert said.
But hearing the king wanted to marry Mrs Simpson, Lady Furness cut up the settee in revenge, Mr Humbert said.
The king would later abdicate in 1936 to allow him to marry Mrs Simpson.
The restored two-seater settee, which originally had three seats, goes on sale at the Silverstone auction rooms on 22 May.
Mr Humbert said he expected the settee, which had resided in Lady Furness's Burrough Court in Melton Mowbray, Leicestershire, to fetch at least £3,000.
'Shock the world'
When the current owner had the furniture restored and reupholstered, the historical vandalism became evident, the auctioneer added.
"It was roughly lopped through with a saw and the arm stuck back on," Mr Humbert said:
"In January 1934, Thelma went to New York with her family and on her return, found that Edward had transferred his affections to Mrs Simpson.
"It turned out the two had been in regular contact since the house party meeting three years before."
The king's plan to marry the divorcee Mrs Simpson threatened a constitutional crisis and so in December 1936 he decided to abdicate.
"The seeds of a love affair that was to shock the world were sown on a pink settee at a hunting lodge country house in Leicestershire in 1931," Mr Humbert said.
"This really is the original seat of love where arguably the greatest love affair of the 20th Century began and a settee that was set to change the course of history."