M1 police chase pair jailed for life for kidnap and firearms offences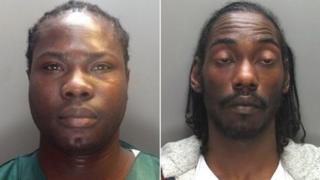 Two men have been jailed for life after shots were fired at police following a kidnap and a car chase from Hertfordshire to London.
David Rhoden, 28, and Clayton McKenzie, 36, were found guilty at St Albans Crown Court of kidnap, firearm and drugs offences.
PC Chris Kouwenberg was shot at by Rhoden in Edgware, north-west London, last November.
Judge Andrew Bright QC said Mr Kouwenberg had shown "great courage".
The court heard "at least five shots" were fired at Mr Kouwenberg, one of two officers who stopped a car carrying a suspected kidnap victim after pursuing it on the M1 on 16 November.
Both offenders had carried out the "drug related" kidnap of Adriatik Berisha in St Albans, who was bound and put in the back of the silver Peugeot 306 McKenzie was driving.
This vehicle was spotted just after midday by Mr Kouwenberg and a colleague who were in an unmarked car in Bricket Wood near junction 6.
When the officers tried to stop it, it was driven onto the southbound M1 and abandoned in Broadhurst Avenue, Edgware, with Rhoden and McKenzie fleeing separately.
Chasing Rhoden, Mr Kouwenberg said it looked like he was carrying a handgun in each hand and shouted for him to stop.
"I heard at least two rounds in quick succession and then another round a second or two later," he said.
Both offenders got away but were later arrested.
Post Traumatic Stress
A search of the area uncovered a Webley revolver, a Colt pistol and a block of cocaine with a street value of about £20,000.
Judge Bright said he was certain the offenders were "leading members of a well organised criminal network" and "extremely dangerous men".
The court heard the police officer had since been diagnosed with Post Traumatic Stress Disorder (PTSD) and the effect on him had been "dramatic".
Rhoden and McKenzie were found guilty of kidnap, carrying a firearm with criminal intent, possessing a Class A drug, possessing a firearm and the actual bodily harm of kidnap victim, Adriatik Berisha.
Rhoden pleaded not guilty to the attempted murder of the police officer.
The jury failed to reach a verdict on that charge but he was found guilty of making use of a firearm to resist arrest and possessing a firearm with intent to endanger life.
Judge Bright told Rhoden, of Flowers Lane, Neasden, he must serve a minimum term of ten years and 190 days and McKenzie, of High Street, Harlesden, must spend a minimum of six years and 190 days behind bars.