Stuart Hall trial: Accuser 'not dreaming up rape'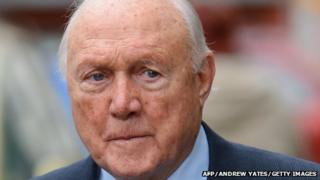 A woman who alleges she was raped by Stuart Hall when she was 12 years old has told the ex-broadcaster's trial that she "had not dreamt it up".
The woman, known as Girl B, has a recurring "nightmare" about the alleged rape where Mr Hall arrived on a motorbike at stables where she worked.
She told Preston Crown Court it was a memory that "haunts" her as it "absolutely, categorically happened".
Mr Hall, 84, denies 20 charges of rape and indecent assault from 1976 to 1981.
'Threw up'
The charges involve two girls who had sex with the former It's a Knockout presenter, of Wilmslow, Cheshire, on numerous occasions while under the age of 16.
Mr Hall's barrister said that under the law at the time, his client would have been charged with unlawful sex with a girl under 16.
Defending the former BBC Radio 5 live summariser, Crispin Aylett QC said: "Might you have seen the defendant arrive on a motorcycle and what you are telling us about it now is something that has come to you in a dream?"
The woman said: "You are completely incorrect. It is a memory that I dream about and a very, very vivid memory."
Mr Aylett then said: "This incident didn't happen at all."
Girl B replied: "It absolutely, categorically happened."
The court was told she compared her experiences to those of the character played by actress Jodie Foster in the award-winning film The Accused.
The woman said she told a therapist: "I remember watching The Accused... I threw up with the violence. Her pleading for it to stop. That has stayed with me."
'Wakes me up'
She claims Mr Hall, who was a family friend, took her to a corner of the stables, pushed her up against the wall and raped her.
Explaining the dream, Girl B said: "It's a recurring dream I have had all my life. In fact, I would change that word to nightmare.
"It's a memory that haunts me. It wakes me up and it has done many times."
Mr Hall is also alleged to have raped her when she was aged 14 or 15 in his BBC dressing rooms at Piccadilly and Oxford Road in Manchester.
She said: "The whole thing was extremely unpleasant. At that age and at that time you have to get through it the best way you can.
"I did not spend time thinking about anything else apart from just getting on with it and, frankly, surviving it," she added.
Girl B was invited to the studios by Mr Hall after she became interested in a career in television.
The court heard she told the police "everyone at the BBC looked up to" Mr Hall.
The woman told the jury Mr Hall did not frighten her and was charming.
She said: "I would say he was very successful at getting what he wanted."
'Very insulting'
The former presenter has admitted one count of indecent assault against her when she was 13.
Mr Hall claims that, despite that assault, he went on to have a consensual sexual relationship with her in the years that followed.
The jury was told Mr Hall and the woman had discussed their sexual contact after it emerged he had abused other girls.
Girl B said: "He said: 'You are different, it was not the same with any of the others' and I was 'special'.
"I said: 'But you have done this to these girls'."
The woman was asked if she had ruled out claiming compensation from Mr Hall.
Girl B replied: "I find it very insulting to be asked."
'Sort of funny poem'
The court also heard from one of the 13 victims Mr Hall was jailed last year for indecently assaulting, who had been a friend of Girl B when they were children.
The court heard that she was abused at the age of 13 at a dinner party on the same occasion Mr Hall indecently assaulted Girl B.
The jury was told that the complainant, now in her late 40s, was "stunned" and "helpless" when the broadcaster targeted her in a bath.
As he abused her, he would say "you're beautiful and gorgeous" over and over again, the court heard.
The woman said she confided in Girl B the next morning, who told her Mr Hall had "gone into her room and did things to her".
She spoke to Girl B's mother about what happened, but she was concerned her husband would kill Mr Hall if he found out, the jury heard.
After the indecent assault, Mr Hall sent a "sort of funny poem" to her and a little paperweight with a prickly fish in it, she told the court.
"He wanted us to remember what had happened and he sent us a note," she said.
Last year, Mr Hall was jailed for 15 months for 14 offences of indecent assault against 13 girls. His sentence was later extended to 30 months, at the Court of Appeal.
The trial continues on Monday.