MP Therese Coffey 'sore' after Newark canvassing dog bite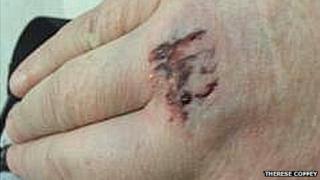 Conservative MP Therese Coffey has been left "sore" after a dog bit her while she was canvassing in Newark.
The MP for Suffolk Coastal was campaigning on Monday ahead of the Nottinghamshire town's by-election when a terrier bit her knuckle.
"I have a dog myself and I always know to bring treats with me, but for this one it just wasn't enough," she said.
The MP said she had since gone for a tetanus jab. It is not known what party the dog's owner supported.
Ms Coffey said she was met by three dogs as she entered a home-owner's gate and provided treats for them all, but one took exception and bit her.
'Very common'
She said she swiftly left before talking to the owner and went to hospital upon her return to London for the wound to be checked over.
She said it had "never happened" to her before, but it was a "very common thing" that politicians faced while door-to-door campaigning.
Posting a picture of her wound on Twitter, she denied having any plans to sue the dog's owner.
The Newark by-election, taking place on 5 June, was caused by the sudden resignation of the constituency's former Conservative MP Patrick Mercer, over a cash-for-Parliamentary-questions scandal.