UK Coal mine closures to 'cost taxpayer £75m', TUC says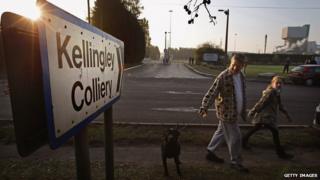 The closure of two of the UK's three remaining deep coal mines will cost the taxpayer up to £75m, a report claims.
UK Coal plans to close Kellingley and Thoresby collieries with the loss of 1,300 jobs by the end of 2015 in a £20m deal to avoid insolvency.
But the report, from the Trades Union Congress (TUC), said this would lead to loss of income tax and "significant unemployment" costs in benefits.
The TUC has urged the government to apply for EU state aid instead.
UK Coal said a strong pound meant it had lost out to cheaper imported coal from the US, where the boom in shale gas has forced American coal miners to find new markets in Europe.
'Sustain our mines'
TUC senior policy officer Philip Pearson said: "We want a longer term public investment approach, around £74m maximum, with a return of over £80m by 2018.
"We have to sustain our mines for the time when coal prices go back up again."
The TUC said this would be a "cash neutral" option, whereas carrying out the 18-month closure of the collieries would "result in significant and tangible costs for the UK tax payer".
"Over the three years from 2016 to 2018 this is likely to include [an estimated] £75m loss in income tax and national insurance, and significant unemployment-related benefits associated with [an estimated] 2600 man-years of lost employment," the report said.
Andrew Mackintosh of UK Coal said the company supported the TUC's efforts but the managed closure deal, which includes a £10m government loan, was the only way to avoid insolvency and immediate closure.
A government spokesman said it was reviewing the report and "any use of taxpayers money has to represent clear value for money".
"Private sector investors who wish to put in the substantial investment that would be needed to maintain the mines beyond Autumn 2015 without government support remain free to do so," he added.
When the two sites close, employee-owned Hatfield colliery in South Yorkshire will be Britain's last remaining deep pit mine.