Nadine Dorries MP calls to end cyberstalking menace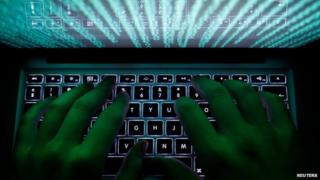 At the University of Bedfordshire there is a small department investigating a very modern and insidious phenomenon.
The National Centre for Cyberstalking Research is trying to find out more about this very modern crime - its prevalence, the motivation of those who perpetrate it and how best to tackle it. These are all areas where there is currently very little research.
It's different to cyberbullying, which often makes the headlines, but in the mind of the Mid-Bedfordshire MP, Nadine Dorries, it's just as bad.
"Cyberbullying, is a serious, modern-day offence that profoundly affects people, in particular teenagers," she told MPs during a special debate in Parliament on the subject.
Ms Dorries is vice-patron of a cyberbullying campaign organisation and she used the debate to call for greater awareness of the problem.
"Before the mass use of the internet, such people would often operate alone, as one-offs - but through various social media sites such as Twitter and Facebook and other platforms, individuals can now join together and operate almost as a pack and over a sustained period," she said.
"Physical stalkers have become cyberstalkers and cyberstalking has become an epidemic that stretches across the globe.
"We need to get on top of the problem."
'Learning curve'
Ms Dorries was able to quote a variety of worrying statistics.
According to one recent report, some form of technology is used in more than 70% of stalking cases, one in four victims have had false information about them posted online and victims will only feel compelled to go to the police after enduring an average of 100 incidents of cyberstalking.
Anti-stalking legislation was first introduced in 1997 as part of the Protection from Harassment Act which was amended to take in cyberstalking in 2012. But some campaign groups fear that the police don't take the issue seriously enough.
"We need to ensure that people at all levels and in all areas of the justice system are aware of just how skilful cyberstalkers can be, of how significant and far-reaching their impact can be and how prolific they are," said Ms Dorries.
The Home Office minister, Norman Baker, admitted that "we are all on a learning curve", but insisted the government was taking the problem seriously.
"We are committed to tackling cyberstalking," he said.
"If there are good ideas, from wherever they come in the House, we want to look at those ideas. We have an open door as well as an open mind on these matters."
There is now a National Stalking Advocacy Service and three charities trying to raise awareness of the problem. People are starting to be prosecuted.
Ms Dorries says things are moving in the right direction but it will only be when more victims come forward, knowing the law is on their side, that those who carry out cyberbullying will start to think twice.