MEP Lord Dartmouth rejects turbines connection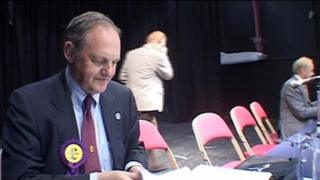 A South West UKIP MEP says he has no connection with an onshore wind farm application.
Lord Dartmouth, whose party is against wind farms, once owned land where an application for three turbines is being made at Slaithwaite, near Huddersfield.
The land was transferred to a family company a few months before an option on the turbines was agreed.
Lord Dartmouth said: "I derive no benefit, financial or otherwise, from the land as it stands."
The land is currently subject to a planning application to build three 300ft (91m) turbines.
According to documents obtained from the Land Registry, up until the 14 February 2011 the land at Slaithwaite was owned by Lord Dartmouth.
On that date he transferred ownership of it to a company called Rosscroft Ltd.
Two-and-a-half months later an option agreement was made between Rosscroft Ltd and Valley Wind Cooperative Limited.
Valley Wind, which was created in 2009 to take the turbines idea forward, declined to say who approached it about the project.
'Questions still outstanding'
It said in a statement: "Rosscroft Ltd are the owners of the land on which Valley Wind Cooperative holds an option for a wind development."
UKIP candidate Lord Dartmouth, one of the South West's two UKIP Members of the European Parliament, said in a statement: "I am not the applicant. I do not own the land in question.
"The land which is the subject of the planning application is owned by a relative.
"I derive no benefit, financial or otherwise, from the land as it stands, nor would I if the planning application were successful."
Lord Dartmouth, who still owns land next to the site, did not comment on whether he would object to the proposal.
"This strip of land would not be involved in the wind turbine application in any shape or form," he said.
"As a UK Independence Party MEP I fully endorse the party policy to oppose onshore wind turbine development," he said.
Liberal Democrat candidate, Sir Graham Watson, MEP, said: "Lord Dartmouth has publicly always opposed the development of wind power.
"If he is involved in putting up wind turbines then I think his constituents should know about it."
Conservative candidate, Julie Girling, MEP, said: "I don't understand how these things work but to me it seems rather strange and he should give us a little bit more of a detailed explanation."
Labour candidate Claire Moody said: "I think that with the difference between what UKIP are saying and what is apparently happening with this land, there are questions still outstanding."
Green Party candidate Molly Scott Cato said: "Obviously UKIP are trading on the fact that people are disillusioned with the three main Westminster parties but I think this shows us what some of us expected, they don't have higher standards themselves."
UKIP declined to comment.
Elections for the European Parliament will be held on 22 May 2014. A full list of candidates in the South West is on the BBC News website.