Stuart Hall 'did not rape girls', crown court trial hears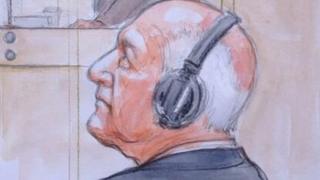 Stuart Hall had sex with teenage girls but insists he is "not a rapist", a court has heard.
The 84-year-old ex-broadcaster denies 20 charges of rape and indecent assault involving two girls in the 1970s.
Preston Crown Court heard that both girls had sex with him on numerous occasions while under 16.
Mr Hall's barrister said that under the law at the time of the alleged offences he would have been charged with unlawful sex with a girl under 16.
On Tuesday Mr Hall, from Wilmslow, Cheshire, admitted one count of indecent assault.
Last year, he was jailed for 15 months for 14 offences of indecent assault against 13 girls. His sentence was later extended to 30 months, at the Court of Appeal.
Consent
Opening the case for the defence Crispin Aylett QC asked the jury to focus on 14 of the 15 rape charges, in which the girls were aged between 14 and 16.
Mr Aylett said: "Let me say from the outset that none of this should have happened.
"The girls were teenagers. The defendant was in his 40s and he had no one to blame but himself.
"The defendant says in his pleas of not guilty that whatever his shortcomings, whatever he has done, he says 'I am not a rapist'."
He told the jury they might have been left with the impression that between rape and consensual sexual intercourse "there is simply no forbidden area".
"Might there have been something in the middle?" he asked.
Mr Aylett said all the allegations his client faced would have been covered by the Sexual Offences Act 1956 until 2003, when the law changed.
That act provided for offences of rape and indecent assault but also unlawful sexual intercourse with a girl under 16 and also a girl under 13, he said.
"It means that the people who drafted that legislation envisaged a situation, repugnant and bizarre as it may seem, where someone under the age of 13 could have consented to intercourse," the barrister told the court.
"That was in force until 2003 - we now have new legislation."
Mr Aylett said if Hall had been investigated for these alleged offences between 1978 and 1981, he would have been charged with unlawful sex with a girl under 16.
"You have to consider the question of whether or not in each instance the complainant has consented to, or might have consented to, sexual intercourse with Stuart Hall.
"And even if they did not, whether the defendant might reasonably have thought they were consenting."
He said it was the prosecution's case that he groomed the two girls, plied them with drink and controlled them for his own sexual purposes.
"That is one side of the coin," said Mr Aylett.
'Revenge'
He said the other side was that one girl, between the ages of 14 and 15, had sexual intercourse with him on at least 30 occasions in which she repeatedly went to his BBC dressing room "to be submitted to yet another rape".
"Is that how it was?" asked the barrister.
He posed the same question with the other girl, who "again and again" would meet up with him to be given alcohol and be sexually abused.
Mr Hall's first alleged victim, known as Girl A, told the court she was raped at the BBC studios at Oxford Road and also at BBC premises at Piccadilly in Manchester.
The woman, who is now 52, said he would sometimes give her money after raping her, and then drive her home in his gold Rolls Royce.
After the first rape Mr Hall told her it was "our secret", she told the court.
Under cross examination she was asked if the sex was consensual.
She replied: "He didn't tie me down and rape me, if that is what you mean."
The defence claimed that when the woman first reported the alleged crimes it was to a solicitor, for compensation, and not to the police.
Asked what her motivation was for contacting solicitors and the police she answered "revenge".
The cross examination will continue on Thursday. The trial is expected to last seven days.