Gloucestershire pothole victim's compensation claim rejected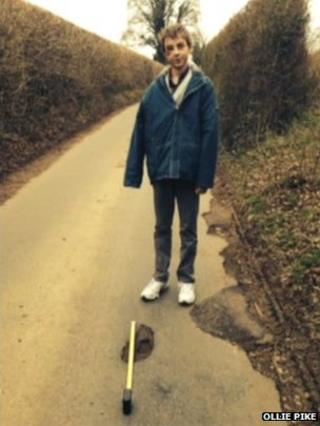 The family of a 15-year-old cyclist who was badly injured after riding over a pothole say their compensation claim has been rejected.
Ollie Pike from Malmesbury, Wiltshire, broke his collarbone and hit his head when he fell during a charity ride in Gloucestershire.
His mother, Louise, said they would be pursuing legal advice and would "by no means give up here".
Gloucestershire County Council said it could not comment on individual cases.
In March, Ollie said he was riding at a "leisurely pace" along a lane near Cirencester when he swerved to avoid one lot of potholes but hit another and went straight over his handlebars.
'Frustrated and angry'
The county council said its highways teams were identifying and fixing hundreds of potholes each day and in the past 12 months nearly 50,000 had been fixed around the county.
A spokesperson added: "The well used roads in the county are inspected at least every month. Unsafe potholes are fixed within 24 hours, and others, if they meet the national safety requirements, will be repaired within 28 days which is in line with UK guidelines."
But, two months after the crash, the Pike family said the pothole that caused Ollie's crash remains untouched.
"I feel very frustrated and angry that because the pothole was 38mm deep and not 40mm deep it did not need filling due to their criteria," said Mrs Pike.
"Their [the authority's] letter states there were no defects in Dower's Lane only four weeks before his accident. How can that be?
"Ollie sustained some very serious injuries as a result that have been very traumatic for us as a family to deal with."