Farmer Paul Waterfall cleared over Roger Freeman bull death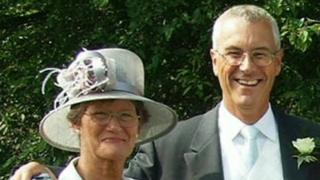 A farmer who owned a bull or cow which killed a walker has been cleared of manslaughter by gross negligence.
The prosecution claimed Roger Freeman was killed by a bull called Moonriver Zac Pi, and that dairy farmer Paul Waterfall knew the bull was dangerous.
But evidence during the trial suggested a female cow could have been responsible for killing Mr Freeman in the field in Nottinghamshire.
Mr Waterfall said his bull had never shown aggression to him or his staff.
Judge Greg Dickinson QC said: "Whatever the verdict, I have enormous sympathy for Mrs Freeman and her family and friends, and I express deep condolences for all they have gone through in this horrible ordeal."
Roger and Glenis Freeman, from Glen Parva in Leicestershire, were attacked while walking on a public footpath through a field in Stanford-on-Soar on 12 November 2010.
The bull, known as Zac for short, was in the field with a number of cows of different breeds.
Mrs Freeman told police she believed an animal with 12in (30cm) horns attacked her after she tried to defend her husband from it, however the court was told Zac did not have horns.
Jurors were told of two other incidents involving cattle from the same farm in the weeks before Mr Freeman died, and the prosecution alleged Zac was responsible for these too.
On 1 October 2010, two Central Networks power engineers tried to carry out emergency repairs but were chased away by an animal, Nottingham Crown Court heard.
Then, two weeks before Mr Freeman died, another engineer noticed what he thought was a bull "pawing the ground and bellowing".
Zac was destroyed shortly after Mr Freeman died.
In her evidence at court, Mrs Freeman said she was no longer sure the animal that attacked her and her husband had horns.
In his defence, Mr Waterfall said he was not aware of Zac being dangerous, and he would have culled him if he had shown aggression towards him or his staff.
He said Brown Swiss bulls like Zac were "referred to as really docile".
"They are very, very quiet animals," he said.
The judge criticised the time it took to charge Waterfall, who was charged in 2013.
"I struggle to understand how it took so long as to come to a decision to charge," he said.
"The Crown Prosecution Service should look very carefully at the history of this case to find out what lessons can be learned."