'Skull Cracker' link to Sunbury building society raid probed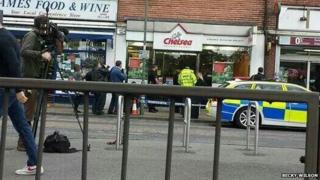 A fugitive armed robber nicknamed the "Skull Cracker" may have struck again, with police investigating whether he is linked to a new raid.
A Chelsea Building Society branch in Sunbury-on-Thames, was robbed by a man with a handgun, Surrey police said.
The armed raid took place at about 10:20 BST on The Parade, Staines Road.
Michael Wheatley, 55, absconded from an open prison in Kent on Saturday. He was given 13 life sentences in 2002 for raids on banks and building societies.
"We are carrying out numerous inquiries to identify the offender and have linked in with Kent Police as part of these inquiries," a spokesman for Surrey Police said.
According to Kent Police, there was a possible sighting of Wheatley in Twickenham, south-west London, on Monday.
Wheatley has gone on the run twice in the past and each time staged a series of violent robberies before he was caught and re-jailed.
'Escaped man'
A spokesman for Chelsea Building Society said no-one had been hurt in the attack, but staff were left shaken and upset.
Jodie Aston, 30, who works in a hair and beauty salon close to the building society said police officers told her they knew who the suspect was.
She said: "They came in and said the man that robbed the bank was the man that escaped from the open prison and it happened at 10:20am.
"It's quite scary to think we were so close. It could have been in here."
Barmaid Chloe Theobald, 26, learned about the robbery while on a lunch break with her manager.
"The police said to my boss 'We think it's the Skull Cracker and he's been sighted in Sunbury'," she said.
She also received a text message from her daughter's school telling parents that their children should not walk home alone this afternoon.
"It's quite scary," she said. "It's not something that happens every day that there's a man on the loose."
A police cordon has been set up outside the building and several nearby shops.
A Surrey Police spokeswoman said the robber had escaped "with a quantity of cash".
The armed man was described as white, in his late 40s or early 50s, about 6ft tall, slim to medium build, with short grey hair.
He was wearing a dark coloured woolly hat, dark-rimmed glasses, light blue jeans, a light blue denim jacket and black trainers.
He left the premises on foot but may have got into a vehicle, police said.
'Career criminal'
Wheatley was first jailed in the 1980s and given a nine-year term for a post office raid, but he absconded in 1988 when he was given permission to go to hospital and failed to return. He went on to commit a series of nine armed robberies.
The career criminal was jailed again in 1989, but three years later he was released to go to the optician and he went on the run, committing eight robberies.
In 1993, he was jailed a third time and given a seven-year term, but he was released on parole in 2001 and carried out a series of bank raids within weeks.
In 2002, when he was given the 13 life sentences, he was ordered to serve a minimum of eight years before being considered for release.