Gatwick second runway 'could threaten Hever Castle'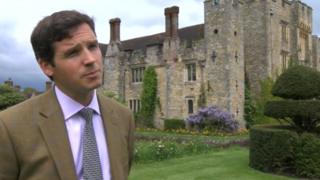 A second runway at Gatwick could threaten the future of Anne Boleyn's childhood home as a tourist attraction, according to its chief executive.
Hever Castle near Edenbridge in Kent fears increased noise could deter people from visiting the attraction.
"If they increased aeroplanes I would be surprised if this business survived long term," said Duncan Leslie.
Gatwick said increasing the number of planes would not necessarily increase noise at Hever.
Anne Boleyn, Henry VIII's second wife, lived at Hever, which dates back to 1270.
'Lessen the effects'
Mr Leslie said it already suffered from aircraft noise from Gatwick, 21 miles away in West Sussex.
"It really does spoil the experience," he said.
"We can get planes at one a minute and if there is any kind of expansion at Gatwick there will be even more."
The airport has been holding public exhibitions across Kent, Surrey and Sussex explaining its three possible options for a second runway site.
The final exhibition is at Copthorne, West Sussex on Tuesday.
Gatwick's plans are being considered by the Airports Commission, which will make recommendations to the government in 2015 on how to increase airport capacity in the South East.
Alastair McDermid, Gatwick's airports commission director, said a new runway would be to the south of the existing one and would not necessarily increase noise at Hever.
"We are very sorry for any nuisance that we cause there, but unfortunately it is not possible to operate an airport and have no noise," he said.
He said the consultation, which ends on 16 May, was intended to raise awareness of the second runway options.
"We are really keen to learn what is of concern to people and try and work out what we can do to lessen the effects if we were selected for a second runway," he added.
Meanwhile Gatwick Area Conservation Campaign (GACC) said 19 historic houses will have to be demolished if the second runway is built.
They include the Elizabethan Charlwood House, and St Michael and All Angels Church at Lowfield Heath.