Smelly tap water in Pangbourne, Streatley and Moulsford 'safe to drink'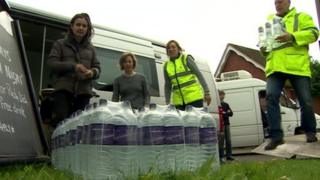 Tap water that was giving off a strange odour is safe to drink, a water company has said.
Thames Water issued a "do not drink" notice to 1,500 customers in the RG8 postcode in Pangbourne and Streatley in Berkshire and Moulsford in Oxfordshire.
The firm said the source of the smell was a newly-repaired water pipe.
Simon Earl, head of water production, said: "After a day and night of sampling, we're very pleased to say [it] has passed all our quality tests."
Other areas affected in Berkshire were Ashampstead and Upper Basildon.
Fifty static water tanks were made available and more than 20,000 litres of bottled water were handed out after the problem was discovered on Thursday.
Mr Earl added: "We're very sorry for the continued inconvenience this problem caused, but we take matters of water quality and public health very seriously and thank customers for their patience."
Initial findings showed the issue was due to "extremely low" concentrations of a compound called styrene in the water.
This chemical is a common component of pipe materials.