European Commissioner warning to North East on EU exit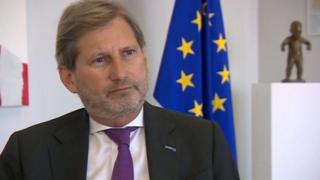 A European Union commissioner has warned that if the UK were to leave the EU, the North East of England could be hit harder than other parts of the country.
Regional policy commissioner Johannes Hahn told BBC's Sunday Politics that less developed regions like the North East would be likely to suffer more if Britain was outside the EU.
He also defended the EU's record, saying grant aid had created or safeguarded more than 22,000 jobs in the region.
European aid
The North East has received hundreds of millions of pounds in European aid - or structural funds - because its economy is less developed than other parts of the UK and Europe.
The region received more than £500m between 2008 and 2013, and another £600m will arrive over the next six years. In the UK, only Cornwall gets more per head of population.
UKIP argues the funds are just our own money coming back to us through the filter of Brussels bureaucrats.
It believes there would be more money available if the UK left the EU and retained the funds it currently contributes.
But Mr Hahn says UKIP should talk to the regional politicians who appreciate support from the EU. He says they welcome the certainty that's not always on offer from their national governments.
"I know the representatives of regions across Europe are in favour of the funds because it means they are guaranteed to receive European money for regional development," he said.
"The real value is that it is money provided for seven years. That's completely different from national budgets which are sometimes only made available for one or perhaps two years."
Single market
Commissioner Hahn also warned of the dangers of leaving the EU, and its single market.
He said: "It is not just about structural funds it is also about access to the European market. If the UK leaves it would also be outside the single market and that is something that would have to be taken into account.
"There are many consequences and that would have to be discussed by the British public, to balance the pros and cons, and afterwards they would have to decide."
The commissioner also said it was in Britain's interests to see some of its money used to develop poorer EU members.
He said: "Additional members in particular from the former communist countries are a big market opportunity for Great Britain and its companies.
"These are the emerging markets of Europe. There are still significant increases of welfare possible, people can consume more if they get the right support and that could help British jobs."
EU membership
But UKIP has taken issue with Commissioner Hahn.
North East European election candidate Jonathan Arnott said: "I would ask the question, would you spend £20 to get a £10 shopping voucher. The European Union expects us to be grateful for that £10 voucher.
"Of course the regions need support, but it would be more efficient for us to spend our own money.
"I also do not see that UK taxpayers' money should be spent on developing the economies of Eastern Europe."