Stephen Sutton: Fundraising cancer teenager goes home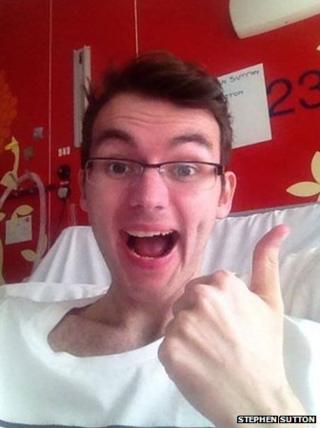 Teenage cancer patient Stephen Sutton has been discharged from hospital.
The 19-year-old, who has raised more than £3m for the Teenage Cancer Trust, posted on his Facebook page that he was now home in Burntwood, Staffordshire.
He said: "The recovery I've undergone recently is quite remarkable... but ultimately I now feel even more fortunate to just be here."
On Friday, Prime Minister David Cameron praised him after visiting him at the Queen Elizabeth Hospital in Birmingham.
Mr Sutton's fundraising took off after posting a "thumbs up" photograph of himself on 22 April.
He also wrote what he thought would be his final message before he died. He has incurable bowel cancer.
'Good to be home'
In his latest Facebook post, Mr Sutton said that he would meet doctors in two weeks to see whether he can take part in a new drug trial.
He said: "It would be a fifth different chemotherapy regime for me, with previous others having limited effect, so we will need to seriously discuss the efficacy of me trying it, but to even be talking about a few weeks time and having options is a great feeling.
"This extra period of time I now have feels like a gift, one that I'm determined to use productively.
"I'll be probably be straight back to doing some crazy stuff/events/etc soon, but for now, it just feels great to be home."
Mr Cameron said Mr Sutton had inspired "literally millions of people" and that Stephen's Story film was "one of the most powerful things you will ever see".