Sports Direct hit by breastfeeding protests across UK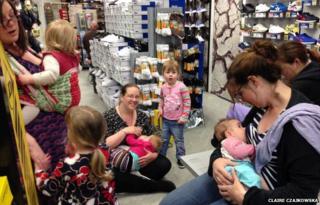 Hundreds of women have breastfed their children inside Sports Direct stores across the UK in support of a breastfeeding mother who was asked to leave the Nottingham branch.
Wioletta Komar, from Lincolnshire, said she had felt too nervous to breastfeed in public since it happened in January.
The nationwide protests were organised by Emily Slough, from Staffordshire, who was called a "tramp" on Facebook for feeding her baby in public.
Sports Direct has declined to comment.
It is unlawful for a business to discriminate against a woman because she is breastfeeding a child, meaning shops should not ask breastfeeding women to leave.
Ms Slough, from Rugeley, said: "We have seen an ever-growing number of cases where people breastfeeding in public have been discriminated against and it has to stop."
Ms Slough set up a campaign called Free to Feed after a photo of her breastfeeding her daughter Matilda was posted on Facebook, along with the "tramp" comment.
She said the campaign was pro-choice when it comes to bottle feeding or breastfeeding.
Nottinghamshire Breastfeeding Mums Network held a protest at Sports Direct in Nottingham on Tuesday.
Ms Slough said about 40 further protests went ahead across the UK on Friday, with about 780 people taking part.
A further four are planned for Saturday, and another is planned on 9 May.
'Cover up more'
Hannah Lynes, who took part in a protest in London earlier, said a male customer complained.
"As we were getting ready to leave, the assistant manager came over to inform us that a male customer had complained," she said.
"We had already stopped breastfeeding at that point so she wasn't really asking us to stop or to leave.
"She suggested that we should cover up more in future."
Nicole Holmes, from Tamworth in Staffordshire, joined 15 other women protesting at the town's Ventura Park store earlier.
"We've been avoided by the people working in the store but we've had a lot of positive feedback from people passing by and shopping - some very positive vibes," she said.
"When that woman was asked to leave the store in Nottingham it was humiliating for her and could have put her off breastfeeding in public for life, which is upsetting because it's an emotional time in a woman's life when they need all the support they can get."
Victoria, a breastfeeding support worker who took part in the protest in Lincoln, said Sports Direct should know the law and should train its staff.
"They've not publicly said sorry, they just sent her a bouquet of flowers three months afterwards, after it went into the media," she said.