Hillsborough stories: Brian Christopher Matthews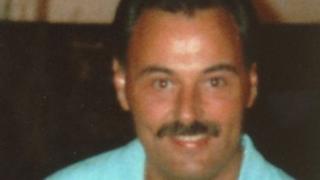 A married financial consultant from Knowsley, Merseyside, Brian Matthews travelled to Hillsborough with friends, all of whom survived.
This is the full statement read to the inquests by his sisters, Deborah, Brenda and Dianne Matthews:
Mr Matthews's wife, Margaret Matthews also gave a statement to the inquest.
Good afternoon. Thank you to the coroner for allowing us the privilege of giving you a snapshot of our brother's life.
I, Deborah Matthews, speaking on behalf of the Matthews family will say:
Our brother, Brian Christopher Matthews, was born on 19 October, 1950. He was aged 38 when he was crushed at the Hillsborough Football Stadium.
Brian was the first born not only to our parents Dora and Albert Matthews, but also into our mother's entire family.
He was naturally idolised by all his aunties and uncles, and he was the apple of our mam and dad's eye.
Brenda was the next born, four years later, followed by Dianne then Christopher. I, Debbie, am the baby of the family. Brian was also godfather to Brenda's, Christopher's and my sons.
In the early '60s, Brian was chosen as altar boy as he and our family were held in high regard by the priests of our parish church, St Mary's RC, where he served for many years.
After passing the 11 plus, he earned his place at St Francis Xavier Bilateral, which was a very prestigious school founded by Jesuit priests. He was a very competent but hard working student at all subjects, excelling in maths and physics.
He achieved high grades in 11 O levels and four A levels and was selected to take an S level in pure maths, which we later learned was to support the application to Oxford and Cambridge Universities.
It was solely due to financial circumstances and being from a working class family, and certainly not aptitude, which prevented Brian from attending either of these universities.
He gained the accolade of head prefect when in Upper Six at school. He continued his studies at the College of Commerce, then Liverpool Polytechnic. During his studies, he took part-time jobs in the accounts department of Dunlops and as a chef in the GPO.
When the Royal Liverpool Hospital was under construction, he found employment with Alfred McAlpine as a quantity surveyor whilst continuing with his studies for QS and architecture at night school, gaining more qualifications.
Our dad worked as a labourer on this site, and our mum was a tea lady to the big bosses. She had to address Brian as 'Mr Matthews' when she entered the office. This tickled Brian no end.
'Celebrity status'
Being very numerate, it was no surprise when, in 1975, he landed a dream job as one of the youngest assistant managers at the Burnley Building Society in Castle Street, Liverpool.
He was promoted to acting manager in 1977 and manager in 1980. He moved to Clitheroe in Lancashire where he became somewhat of a celebrity in the town due to his charismatic personality.
He declined a further promotion as area manager as this meant he would have to travel further afield. Sensitive to his wife Margie's needs, as she was commuting to Liverpool where she worked as a VAT inspector, and also that her parents were elderly, Brian applied for a transfer back to Merseyside in 1983.
It was as a thank you for this move that Margie bought Brian his Liverpool FC season ticket in the Kemlyn Road Stand.
He took up the post of manager at the St Helens branch of which was now the National and Provincial Building Society.
His celebrity status continued, as he was a staunch sponsor of the St Helens Show, which has discovered several West End and TV stars.
He was the Simon Cowell of his day, being one of the main judges of the competition. After his death, the Brian Matthews Memorial Trophy was established in his honour.
'Many talents'
It was here he joined the local branch of the Round Table and raised thousands of pounds for various charities. He was chairman of Help the Aged and supported the RNLI.
He helped organise large-scale firework displays in Sherdley Park where, ironically, his role was principal safety officer.
In 1987 and 1988, he raised hundreds of pounds personally for Children in Need by collecting donations dressed as a clown before walking from Liverpool to Manchester studios in the early hours, where he was on television.
Through his work, he would collect toys for deprived local children and dress up as Santa Claus at children's parties.
Brian (or 'Brains' as he was affectionately known) had many talents. He had the ability to converse with anybody from any walk of life, be it the lawyers from the local chambers or the street vendor selling the Liverpool Echo outside his office.
He could turn his hand to almost anything, from hairdressing to joinery. He was very artistic, being the interior designer and decorator in our house from the age of 14.
He designed a poster to promote his home city which won him a Blue Peter badge accompanied by a beautiful letter from the producer, Biddy Baxter.
Background statement about Brian Christopher Matthews read by his sister, Brenda Matthews:
Throughout his life, Brian never ceased to study and better himself, though it wasn't all work and no play. He was a wonderful husband to Margie from 1977, whom he adored, but he remained very family orientated.
Christmas was his favourite time of year, when we would all be together as well as enjoying family Sunday lunches throughout the year, even if he and Margie did turn up for their dinner sometimes at tea time.
He loved to take holidays around Wales with our mam and aunts, as our mother was afraid to fly, and foreign holidays with the rest of us, Barcelona being his favourite city for its vibrant diversity, but he loved beach holidays.
'Larger than life'
He was often mistaken for one of the locals with his handsome Mediterranean looks and his fluency in Spanish, due to his assistance to Margie during her studies for her BA in languages.
In his younger years, he was a fashionista and would set the trend among his friends with all the latest styles in clothing. He loved music, especially Tamla Motown, and Diana Ross was his absolute idol.
He would leave the arm of the record turntable playing her latest records over and over again, until he (and the rest of us) knew every word. He often predicted correctly what would be the next number one in the charts.
Every Sunday evening in the late '60s, he would bar us from the living room where he set up his recording studio to tape the Top 20 from the radiogram onto his reel-to-reel tape recorder, which we still have to this present day.
In his later years, he loved nothing better than to entertain friends and family in his magnificent home, cooking barbecues and impressing us with his Tom Cruise impersonation as he mixed a new cocktail.
He was larger than life itself, and his winning smile would literally light up a room. He left a lasting impression on everyone who met him.
'Cruelly robbed'
Brian decided on a slight change of career and, shortly before he died, he became a financial consultant for Legal and General.
Although he wasn't there long, he made a huge impact on the people he worked with. We have recently learned that one man was inspired to write a poem for the Hillsborough families.
He described Brian as "a great man". Another poem was written to the 96 for the 25th anniversary, and dedicated to Brian by the award-winning poet Sue Gerrard, a very good friend of Brian's from the St Helens store.
Content in their careers, it was time for Brian and Margie to start a family as they both had so much to offer a child. Sadly, Brian was cruelly robbed of his life before this happened.
Brian always strived to do his infinite best and instilled that ethic in all of us. He was a man of great integrity who should have been safe when he went to that match on that fateful day. He was not safe.
The reputation of the fans was besmirched, and we, as a family, have defended Brian's good character for the last 25 years.
We are eternally grateful to the anonymous people who worked on our brother and for the valiant efforts displayed by the fans. For somebody who contributed so much to society, the thought that our brother suffered such an ignominious death is repugnant.
And to add insult to injury, that the fans were described in a broadsheet as 'bestial' is odious.
Background statement about Brian Christopher Matthews read by his sister, Dianne Matthews:
Our parents never, ever got over the loss of Brian. They were truly broken. It breaks our hearts to think that they both have gone to their graves with their well-brought-up, impeccably-mannered, articulate son being called a beast.
Before our parents passed away, they once wrote the following:
"My son was so special, he stood out a mile, with a handsome face and a wonderful smile. He was talented, gifted, caring and kind, he was one in a million that son of mine.
"Still forever heartbroken, Mam and Dad."
Also, they wrote:
"Our hearts are full of longing, our eyes are full of tears, our thoughts are full of memories of birthdays of past years.
"Wishing you were still here with us, Brian."
It may be that you are sitting here thinking to yourself that this person sounds too good to be true, almost perfect. Well, he was to us.
Not perfect, but almost. He was the special one. He was our big brother, our mentor, our inspiration. He will always be our inspiration.