Hillsborough stories: Keith McGrath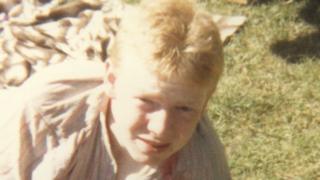 Keith McGrath was a painter from Liverpool, who travelled on a coach to Sheffield with friends, who all survived.
This is the full statement to the inquests from his mother, Mary Corrigan:
Keith McGrath was born on 18 September, 1971. I want to tell you about my beautiful son, Keith.
When my beautiful son was so brutally taken from me, he was six foot tall, had blue, blue eyes and strawberry blond hair.
He was so handsome, my precious son. When he was born, the little hair that was on his head shone like silver little sparkles.
When he was placed on my chest the moment after he was born, I put my arms around this most beautiful, precious child and a love that I had never experienced before surged out of me for him.
Throughout his life, Keith heard me say time and time again, "I love you more than all the money in the world. I love you to the moon and back".
I really do not have the words to express how much I loved and treasured my son, my first born.
Keith was the eldest of my four children. He was aged 11 when his sister, Ann Marie was born in 1982, then his brother, Darren in 1986 and the year after that, Mark was born.
'So loved'
Keith was very delighted when he heard that he was going to have a new baby brother or sister. He was so thrilled to have a little sister. The very first thing Keith did when he came into the hospital to see Ann Marie was put his finger in her hand.
She grasped it and from then Keith could do no wrong in her eyes. She so loved her big brother. Keith's pet name for her was 'Clever Clogs.'
Keith was a very happy, contented baby, always smiling and knew that he was the centre of attention most of the time. I have six brothers and two sisters, and my mum lived next door to us, so Keith had lots of attention all the time from my family.
His personality was such that he won people over with his smile. He enjoyed school, and in primary school, at about the age of 10, the class had to write an essay.
Keith was very good at English, and enjoyed writing sports essays; one of his essays, called 'The Rag a Bag Footballer', was so good his teacher picked it out for special praise.
Keith never boasted when he did well at school. I did not know that the essay was good until his teacher called me in and said how good he was at writing essays, in particular the ones to do with sport.
Keith was always into sport, even as a baby. In his walker, he was kicking a ball. He just loved to play football and his nickname was 'Safe Hands' when he played in goal. He would come home from a match covered in mud but so happy.
He played football for the school until they stopped playing football and replaced it with rugby. The teacher was keen for Keith to play rugby, but Keith was having none of it, as he said he didn't want a "flat nose".
Keith was also a very keen snooker player and his cousins would gather together in our house as we had a snooker table for Keith. Ann Marie was always there, sitting under the table, making sure her big brother was not leaving her out of anything.
'First away match'
Keith was very fit physically. He walked everywhere. It was hard to keep up with him as he took such long strides.
It was, of course, inevitable that Keith would become a Liverpool supporter with a dad and six uncles supporting Liverpool. The matches were usually broadcast on the radio, and Keith would follow the commentary with all his attention.
He had a great memory and would be able to recall everything that was said.
His Uncle Kevin, my brother, took him to his first away match. It was against Aston Villa. He was about 13 years old. He was so excited to be going.
When he returned, I asked him how it went. All Keith spoke about was the lovely chicken he had.
Keith had a great sense of humour and loved to play jokes on all of us. One of my brothers always went to the joke shop and Keith so loved the two penny coin that stuck to the counter and the whoopee cushion.
He loved going to Blackpool with his nan, my mum. Once when they were there, he got his picture taken in a car with a cigarette in his mouth. I was furious with him when I saw the cigarette, but of course it was a fake one, and he just wanted to play a joke on me.
'Ambitious'
Keith left school when he completed his GCSEs in July, 1986. In September of that year, he was employed as an apprentice painter and decorator and started studying for the City and Guilds.
He loved his job, and during his training for the City and Guilds, he learnt how to paint the traps (the carriage that the horse had to carry). He got on really well with all he worked with.
Keith was always sociable, although a bit shy at the first meeting. He was ambitious and knew what he wanted. He was only 16 years of age when he told me about his future plans.
One of his workmates and he were going to set up their own painting, decorating and sign-writing business when they had finished their apprenticeship. He had it all worked out who would do what.
He was also very keen to travel to Hong Kong, as he was into technology, and Hong Kong at that time was the place to learn. Once Keith had started work as an apprentice, he asked me how much he should give me each week.
He was so kind and caring, thinking of others before himself. Darren and Mark, his brothers, were very little and loved to see Keith coming home, as he would lift them under his arms and over his arms high into the air, playing with them and making them laugh.
Keith was really interested in all forms of sport. He was a walking encyclopaedia when it came to sport.
When he was 14, there was a Liverpool match and he was listening to Ian Rush commentating on it. Keith always wanted to be a commentator, so he removed Ian Rush's voice and recorded his own over it, but he was too shy to let anyone hear it.
'Season ticket'
We used to watch A Question of Sport on television. Keith's dad would put the little ones to bed and then Keith and I would sit and watch it and pit our knowledge against the contestants. Keith would get nearly all the questions right and I would get maybe one or two. He loved the programme.
Keith's second love was music. His favourite bands were Genesis, Beastie Boys, Phil Collins and The Police A week or so before Keith's 17th birthday, his dad and I were talking about what to get him for his birthday.
We did not know that he was standing in the hall and heard me say, "I think we'll get him driving lessons". Just then Keith came in and said, "I don't want driving lessons".
We asked him what he did want, and his reply was, "A season ticket for Liverpool", so we bought him a season ticket for his 17th birthday. All these years, I have been saying, if we had not got him that ticket, he would be home safe today.
I know, of course that is not true, but it is there at the back of my mind.
My beautiful son grew up to be a smart, clever, kind, caring young man who had such a wonderful future ahead of him. I was so proud of him and always will be.
He was the shining star of my life, my very precious son and my first born. When he died, a part of me also died.
If I could only have stretched my arms to where you were on that disastrous day and cuddled you like I did when you were first born and brought you home.