UKIP confident of winning first North East Euro-seat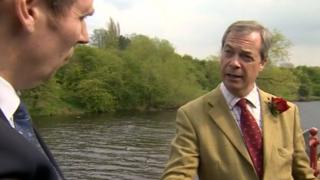 With the smallest electorate and only three seats, the North East of England's Euro-constituency has always been a tough place for anyone other than the main Westminster political parties.
But it's a measure of UKIP's progress in the last few years that they are privately confident of taking one of those seats.
One recent poll even suggests they may be ahead of Labour in the region - now that really could be an electoral earthquake for the North East.
Popularity depths
To give you an idea of how remarkable that would be, Labour still managed to top the North East poll in the 2009 European elections despite one of its worst post-war electoral performances.
In fact, it was the only region where Labour came out top as Gordon Brown's premiership plumbed popularity depths.
UKIP leader Nigel Farage though has made no secret of his desire to target traditional Labour votes.
On a visit to the North East, he told me that there has always been a constituency of Old Labour voters hostile to the UK's membership of the EU.
He believes Labour have abandoned those people, but that they can persuade them to turn out. And he believes it's working class voters who've been most affected by what he calls "open-door migration."
He then went on to speak to a rally of 1,200 people - half of whom weren't party members.
And UKIP lead candidate Jonathan Arnott certainly says he's been offered the votes of card-carrying Labour supporters.
UKIP supporters
Labour's lead candidate Jude Kirton-Darling though does not believe working class voters are turning away.
She said she'd met a handful of UKIP supporters on the doorstep - most of them in Conservative or marginal voting areas.
Labour though has begun putting out some leaflets accusing UKIP of being in favour of undermining workers' rights and pointing out the rich would benefit most from its flat tax proposals.
Nigel Farage has called them smears, but it might also demonstrate that Labour is more concerned than it's publicly admitting.
For Labour though, it's only a question of whether UKIP's success costs them the chance to add to the one North East seat they already have.
For the Conservatives and the Liberal Democrats, the rise of UKIP could be lethal.
Both currently have North East MEPs, but neither can be too sure they'll hold onto them.
Euro-enthusiasts
The steep decline in Lib Dem electoral fortunes in the North East since 2010 probably made life difficult anyway. And so far the Clegg-Farage clashes don't seem to have lifted their gloomy poll ratings.
Their lead candidate Angelika Schneider though says she's still hopeful that Euro-enthusiasts will turn to them rather than other parties.
But for the Conservatives, the loss of the seat could be damaging and embarrassing.
Lead candidate Martin Callanan has been an MEP in the region since 1999. He remains one of the few senior elected Tory politicians in the North East.
He also holds a high-profile job as the head of the Conservatives and Reformists in the European Parliament - the group he put together when the Tories decided to ditch their links to the larger but more EU-friendly European People's Party.
He is a Euro-sceptic, and hopes to win that vote by suggesting his party is the only one that can deliver on Europe - by renegotiating the UK's relationship with the EU and then offering an in-out referendum.
His defeat though would be another blow to Conservative claims to be making any headway in a region where they have struggled electorally for almost two decades now.
Virility test
For the four smaller parties it will be tough to break through. It will be a virility test for them.
The Greens will hope they can push the Lib Dems, or even overtake them. The BNP has decided not to put up much of a local election campaign in order to concentrate on the Euros - so needs to see that deliver.
The English Democrats will hope they can outpoll the BNP. And An Independence in Europe will hope to do more than attract voters who mistake them for UKIP.
Voting takes place on 22 May. But the implications of these elections could have political reverberations in the region well beyond that.