GMP and Cheshire Police not recording a third of crimes, watchdog report suggests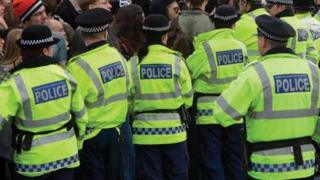 Greater Manchester Police (GMP) and Cheshire Constabulary failed to record about a third of reported crimes - the highest compared to other forces.
Her Majesty's Inspectorate of Constabulary's (HMIC) report found GMP did not log 123 out of a sample of 388 incidents as crimes.
Cheshire Constabulary recorded 58 of 85 reported crimes over the same period between November 2012 to October 2013.
GMP said civilian call staff had received additional training.
Deputy Chief Constable Ian Hopkins said it was "important that crime recording is accurate and in line with the victim's wishes".
On average, the 13 forces across England and Wales that were part of the study recorded around a fifth of reported crimes, the HMIC found.
'Report is disappointing'
A joint statement issued with Cheshire's Police and Crime Commissioner John Dwyer said: "This report from HMIC is not about service delivery, but is about the administrative process of how crime is recorded."
The HMIC report is found 14 alleged rapes were among the cases which were not recorded in a study of 13 police forces around the country.
The crimes also included robberies, burglaries and criminal damage.
Chief Inspector of Constabulary Tom Winsor blamed "workload pressures" for the failures.
He said "weak or absent management" and "poor knowledge on the part of those making the crime recording decisions" could also be factors.
Tony Lloyd, Greater Manchester's Police and Crime Commissioner, said he had begun an audit into how crime is recorded by GMP.
"This report is disappointing," he said.
"I will be working with GMP to make improvements and will use my role to ensure that crime recording is brought up to standard. "
An unrecorded crime is classed as one that is reported to the police, but not recorded as an offence.