Fresh inquest into Zimbabwe gold mine manager death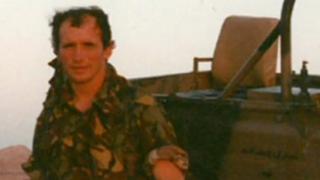 The brother of a Surrey man found dead in Zimbabwe is flying to the country for a fresh inquest into his death.
Robert Wood, 54, a gold mine manager, was discovered hanged in Bulawayo in March 2012.
A inquest in Woking in November 2013 recorded an open verdict and the coroner said there was not enough evidence to determine how he died.
On Monday a new inquest will begin in Bulawayo and Mr Wood's brother Ian said he had been asked to attend.
Previously, a pathologist in Zimbabwe concluded Mr Wood, of Windlesham, had taken his own life.
'Quite damning'
But Ian Wood, from Dover, Kent, said his brother, who had lived in Africa for much of his life, had no reason to hang himself.
He said: "We need to get some answers, as there are lots of unanswered questions.
"Although a lot of the evidence we have got is circumstantial evidence, the coroner in Surrey said it is quite damning and it should be investigated.
"We are hoping that whatever evidence we have got and collected they actually will open up another inquiry."
Mr Wood claims his brother's will was forged in an attempt to gain control of his assets.
Surrey Police has not conducted any formal investigation into the death and said Zimbabwean authorities had carried out inquiries before referring the case to the Surrey Coroner's Office.
After the first inquest, Mr Wood's family offered a $25,000 (£15,000) reward for information about his death.