Norfolk/Suffolk police control room merger plan scrapped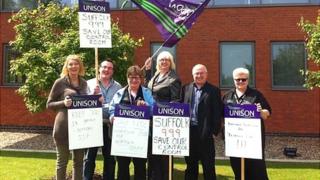 Plans to merge the control rooms serving Norfolk and Suffolk police and save £1.85m, have been scrapped.
At a meeting the Suffolk Police and Crime Commissioner Tim Passmore said the risks were too great.
Mr Passmore told the Norfolk/Suffolk collaboration panel, there was a lack of confidence in a joint control room which would have been based in Norfolk.
Norfolk Police and Crime Commissioner Stephen Bett said he was "disappointed" the merger had been scrapped.
Mr Passmore has previously raised concerns about the business case for the merger which he had called "fundamentally flawed".
"Our chief financial officer has said he is not impressed with the business case," he told the BBC in March this year.
At the meeting, Mr Passmore said there was public disquiet in Suffolk over the change, which he said could lead to the loss of 70 jobs.
The report produced by a joint Norfolk and Suffolk team, which included assistant chief constables from both counties, said there was a clear business case for having the joint control room in Wymondham.
The report said the joint control room would save Norfolk £973,918 and Suffolk £870,567.
It added that Norfolk Police needs to make additional savings of £20.3m by March 2018.
Following the meeting Mr Bett said: "I accept today's decision and now we move on. I am disappointed but not surprised.
"I anticipated this might be the case several weeks ago and have already asked Norfolk's Chief Constable to start work on a 'Plan B' for Norfolk.
"My main regret is that any doubts were not voiced earlier in this process as we could have saved taxpayers hundreds of thousands of pounds and staff weeks of stress and anxiety.
"It is only right that we leave the proposals on the table but equally we cannot delay and we will now press ahead with our Plan B."