South West Water bills 'could be cut by 7%'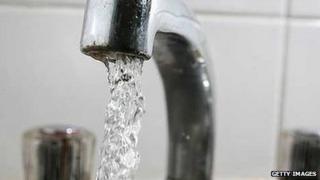 The highest water bills in England could be cut by 7% if proposals from the regulator Ofwat are enforced.
The figure for the next five years from South West Water (SWW) has been set out in a draft ruling that outlines the drop in an average bill before inflation.
Ofwat will make a final decision in December.
Last year, SWW announced standard tariffs and standing charges would be frozen until 2015.
The company's average water and sewerage bill for 2014/15 is £495, after a £50 special contribution from the government was taken into account.
In 2014/15 the company is spending £160m on improvements including flood prevention, water quality and reservoir and sewage treatment.
SWW is the first of the big water companies to see a draft ruling on prices for the years ahead.
The company, which supplies Devon and Cornwall as well as parts of Dorset and Somerset, has about 800,000 residential customers across the region.