Ann Maguire stabbing: Police get extra time to question teenager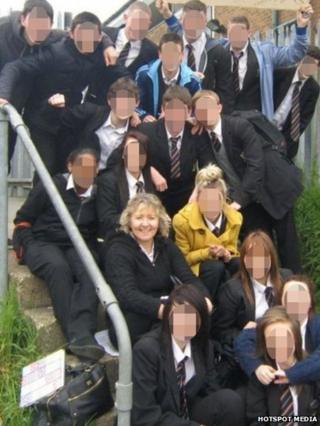 Police have been given extra time to question a 15-year-old boy over the fatal stabbing of a teacher.
Ann Maguire, 61, died from multiple stab wounds after the attack in a classroom at Corpus Christi Catholic College in Leeds on Monday.
West Yorkshire Police said magistrates granted detectives more time to hold the boy on Tuesday evening.
The Pope, Prime Minister David Cameron and opposition leader Ed Miliband have each paid tribute to Mrs Maguire.
'An inspiration'
In the House of Commons, Mr Cameron said Mrs Maguire's death was a "truly shocking and appalling tragedy".
"She cared so much about her pupils that she had come in on her day off to help prepare them for exams," he said.
Mr Miliband said the teacher was "an inspiration to all those she taught".
Pope Francis also expressed sympathy in a message conveyed by the Vatican's Ambassador to Britain.
Archbishop Antonio Mennini, in a letter to the Diocese of Leeds, asked for the message of "sincere sympathy" to be conveyed on behalf of himself and the Pope.
"I assure you of my prayers for the repose of the soul of Mrs Maguire and for the consolation and strengthening of all those persons close to her and all those who mourn her sudden death," Archbishop Mennini said.
Mrs Maguire was due to retire in September after a 40-year career.
Det Supt Simon Beldon, who is leading the investigation into Mrs Maguire's death, said the suspect remained in custody and faced further questioning.
"Last night we were granted an extension by magistrates which has given us additional time to question him today," he said.
He said officers were in the process of interviewing a number of pupils who had witnessed the stabbing.
'Like a mum'
The BBC's Ed Thomas said the Facebook page of the boy in custody features a picture of the grim reaper.
He was described to the correspondent as a "loner" by a pupil in the same year at the school.
The boy, who did not give a name, said: "I didn't see him with quite a lot of people, friends and that. He was often by himself."
Floral tributes to Mrs Maguire have been laid outside the school by current and former pupils and a community service was held at the neighbouring church on Wednesday morning.
Teaching assistant Julie Digings, who retired from her job at Corpus Christi in January after 17 years, said Mrs Maguire had sent her a "lovely" retirement card.
"She wrote in my card, 'To Julie, you gorgeous, gorgeous, gorgeous young lady. We will always miss you. Love Ann'," she said.
Mrs Digings added: "They are saying she was the mother of the school and that's what she was like. She was like a mum to them."
The head teacher of the college, Steve Mort, said Mrs Maguire had been a "highly regarded" member of staff.
He said: "She was an inspirational teacher here for over 40 years, and she will be sadly missed by colleagues, current and former pupils, and the community as a whole."
Mr Mort said he wanted to reassure people the school was a safe one.
"This has been a tragic and isolated incident. There is no ongoing risk to students or staff in school," he said.