East Midlands Airport reopens after day-long closure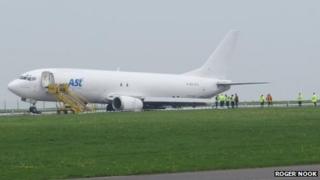 East Midlands Airport has reopened after all flights in and out were suspended when a cargo plane had problems during landing.
Freight company Air Contractors said one of its planes, a Boeing 737-400 which had flown from Paris, suffered a landing gear failure.
It happened as the aircraft was slowing down to exit the runway at about 02:30 BST on Tuesday.
An airport spokesman said flights were expected to operate as normal.
The airport did not reopen until Tuesday night as arrangements were made to remove the plane from the runway and dozens of flights were cancelled.
In a statement on its website, Air Contractors, a freight company based in Ireland, said: "The Irish Air Accident Investigation Unit (AAIU) and the UK Air Accident Investigation Branch (AAIB) were informed and the AAIB inspected the aircraft on site before authorising its removal from the runway."
An East Midlands Airport spokesman said: "We would like to thank all our passengers for their patience throughout today and offer apologies for the inconvenience caused.
"As we return to normal operations, it is possible that there may be some changes to the flight schedule and we would encourage passengers to contact their airline and check our live flight information for the latest information on their travel."
The airport currently serves about four million passengers and handles 300,000 tonnes of freight each year.