Ann Maguire stabbing: Teenage boy questioned for third day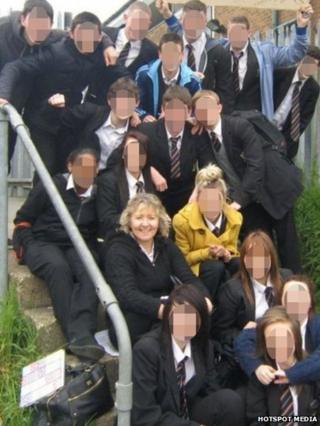 A 15-year-old boy is due to be questioned by police for a third day about the fatal stabbing of a teacher attacked in front of her pupils.
Ann Maguire, 61, died from multiple stab wounds suffered in the attack at Corpus Christi Catholic College in Leeds on Monday.
Head teacher Steve Mort said she had been the "mother of the school" and "the calm in the storm" for 40 years.
The teenager is still in custody at a police station in the city.
Mr Mort said about 30 students were "in the vicinity" when the attack happened.
He said they were receiving intensive support and some of their parents had been invited into the school.
On Tuesday, the school revealed Mrs Maguire was due to retire in September.
Chair of governors Martin Dowling said she had already reduced her working to four days, ahead of her retirement.
He said the stabbing was a "tragic but isolated incident" and there had been "no indications at all" it would happen.
The school was open as normal on Tuesday and pupils and staff were being offered specialist support.
'Wonderful teacher'
Mr Dowling said there had been a "calm and reverent" atmosphere.
"The children have been absolutely amazing. We've had assemblies, services and the children have responded in a magnificent manner, as have the staff also," he told a press conference.
He said it would be "very difficult" for the school to move on as Mrs Maguire was a "very popular and long-serving member of staff".
"Ann was a wonderful, dedicated teacher and will be remembered fondly by all of us," he said.
"She had taught at Corpus Christi for 40 years and touched the lives of many people in the local community, having also taught the parents of some of our current pupils."
Earlier on Tuesday, some of Mrs Maguire's former pupils attended Mass at Corpus Christi Church, which is connected to the school.
Many were in tears as the 150-strong congregation was led in prayers by Monsignor Paul Fisher.
One student said going in had enabled them to get support from peers and teachers that they needed to cope with the tragedy.
Another added: "It was really depressing, but it gave us some normality and taught us what a community we are."
Scores of bouquets have been left outside the school, where a constant stream of people continued to pay tribute.
'Never gave up'
Mr Mort said he last spoke to Mrs Maguire on Monday morning after a staff briefing.
"She was enjoying the latter end of her career although I know, to Ann, that her service to Corpus Christi was not a career. She considered it to be a vocation."
The school had been "overwhelmed" by the support it had received from the local community.
"Ann was first and foremost highly aspirational for all our students, regardless of their background or ability," he said.
"She never gave up on pupils, even at times when they had given up on themselves.
"She'd touched the hearts of three generations of pupils. She was an inspiration, not only to the pupils but to the staff of the school."