Hillsborough stories: Henry Thomas Burke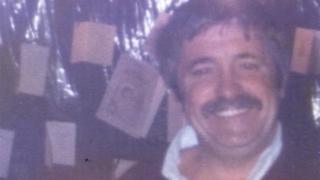 A roofing contractor from Liverpool, Henry Burke travelled to the match with friends, all of whom survived.
This is the full statement to the inquests from his daughter, Christine Burke:
Henry Thomas Burke was born on 23 March, 1942 in Liverpool. He was a loving husband to his wife, Christine, and a devoted father to his children, Christine, Ian and Steven.
Our dad was only 47 years old when he was taken from us.
Our dad was a funny man and often had people in fits of laughter, leaving our mum bemused as to why everyone found him so funny.
He also had an unrivalled ability to entertain children. When we got together with my mum's family, which was often, my dad immediately jumped in with all the kids and made sure they were having a good time.
He always used to say that children aren't naughty, it's just that you have to entertain them.
That being said, our dad was old school and brought us up to have manners and to respect people. Most importantly, he taught us right from wrong.
In our house, we weren't allowed to come in and have our tea when we wanted to. It was six o'clock on the dot.
We all sat at the table. It was very important to Dad that we all sat together at this time and talked about our day. It was our family time.
He was an extremely supportive father and used to tell us that we could achieve anything we put our minds to.
I used to often confide in my dad and there have been many occasions since his passing that I have wanted to turn to him for advice. We all truly miss his supportive nature.
When I was younger, I was part of the local youth club. They organised a day out at Blackpool for all the boys and girls that just turned 13.
My friends and I thought we were all grown up and bought those 'Kiss me quick, squeeze me tight' hats like the ones you see in Blackpool. My fringe was too long and I asked my mum to cut it.
'Attractive man'
She was in a rush and said, 'Whatever you do, do not let your dad cut your fringe', but my dad volunteered and so I put my trust in him. Huge mistake.
Dad grabbed the whole of my fringe and snipped it with the scissors and, to my horror, had the whole of my fringe in his hands. My brothers were laughing hysterically and I ran to my bedroom and sobbed into my pillow.
Dad came up the stairs and stood outside my bedroom door. He tried to serenade me to the song 'Funny Face', which just made me feel even worse. He kept posting these little notes under the door to say he was sorry.
Being 13, I told him to go away, that he had ruined my life. Eventually, I opened the door to find Dad standing there with my fringe on a strip of tape. I burst out laughing, slammed the door and continued to sob into my pillow.
Years later, I asked Dad if he did it on purpose, and he said no, but having no fringe guaranteed him that nobody would be 'Kissing me quick' or 'Squeezing me tight'.
Our dad was an attractive man, with dark hair and dark eyes. As the years went by, dad started to go grey and started to worry about this.
We all laughed and said he was having a midlife crisis. I suggested that he try some Grecian 2000 men's hair dye. I said it would mildly cover the grey and not look too drastic.
Dad put his trust in me. Huge mistake. This was payback time, big time. Not only did I buy a box of Grecian 2000, but I had also bought the blackest permanent hair dye I could find.
I swapped the bottles and Dad was none the wiser. Dad said, "It says on the instruction box to only leave it on for 10 minutes". I said, "No, leave it on for half an hour, just to make sure".
We all waited downstairs and, when we heard the hairdryer, we waited for it. Dad came running down the stairs and was standing there in his boot-polish-black hair. We all laughed hysterically and Mum said he looked like the oldest swinger in town.
'Cherished memories'
Luckily, Dad saw the funny side of this. That was his nature. He was very placid, mild-mannered and up for a joke. While my fringe took eight weeks to grow out, I can assure you that hair dye took eight months to grow out.
These are memories that we will cherish forever.
We used to call our house the 'mad house', with everyone running around in the morning trying to get ready. Mum and dad would be up for work, Ian, Steven and I trying to get ready for school, but Ian loved to sleep in.
He wouldn't get out of that bed in the morning and used to always shout, "15 more minutes".
Dad used to tell me to go up and take the quilt off him, which I did, and Ian would be lying there in his full school uniform. He told me that he got ready the night before so that he could have an extra 15 minutes in bed.
Our dad told him to get into that bathroom in 15 seconds, take that uniform off and get washed. I can assure you Ian was in there in five seconds. We called it the 'mad house', but that mad house was full of all the fun, love and laughter you could ever wish for as young children growing up.
My dad spent a lot of time with my brother Ian. Our dad was Ian's mentor and taught him to use his hands from a young age.
Being a petite boy at the age of seven, and still is, Dad taught Ian how to make his very own wooden stool to stand on when they went to see football matches together in the Kop.
'Surprise party'
Ian recalls having to throw the wooden stool over the turnstiles and then hurrying in behind to retrieve it.
Ian was also our dad's apprentice in the building trade from the age of 16. Our dad taught him all the valuable skills and craftsmanship he has to this day.
Our dad was my mum's rock and life, and they used to do everything together. They first met at the age of 21 and were looking forward to a long life together.
It was their 25th wedding anniversary soon after the tragedy and we had arranged a surprise party for them both and a trip to Rome, but that day never came for him and our mum.
All that Mum has left are the memories of her time with my dad, memories, for instance, of when my dad came around to the family home when they were dating to find my mum's siblings playing tricks on him.
One of the fondest memories we have of our father is how he taught us to swim. He often took Ian and I and Steven to the canal and threw us in to help us get used to the water and float. He was such a brilliant swimmer and diver. He also used to teach us to do back flips.
Our dad worked hard to ensure that his family was well provided for and gave his wages to our mum at the end of the week. So long as we were cared for, he was happy.
'Father figure'
We even went to Spain on a few occasions, and America, at a time when not many people went abroad.
Our dad's caring nature extended beyond our family and was present in his decision to have Steven, our mum's youngest brother, come to live with us when our grandmother died.
Even though Steven was our mum's youngest brother, he was only six months older than me, and so my dad acted as a father figure to him and brought him up as if he was his own.
Our dad had three sisters, Nellie, Lilly and Theresa, and four brothers, Whacker, Tommy, Frannie and Anthony. Our dad loved his siblings dearly, but had a special love for Anthony, who was the youngest and had Down's syndrome.
Every time we went on a day out to Alton Towers, Blackpool, safari park, Dad would bring Anthony with us. He was very protective of his brother and would show him a lot of affection.
Anthony was such a character and loved Elvis. When our dad died and Liverpool Football Club opened its doors to all the families, Anthony went to Anfield one day and met his idol, Kenny Dalglish, and asked him for one of the tops displayed on the wall which was worn by a legendary footballer.
Anthony persisted that he wanted the top and Kenny had a member of staff unscrew it off the wall and give it to Anthony. From that day on, Elvis took a back seat. Anthony wore the top endlessly. It was murder to take the top off him to wash it.
It broke my heart when, at my dad's funeral, Anthony said, 'Not my Henry' as the coffin went past.
Dad always said if anything happened to his parents then he would look after Anthony, but sadly, Dad died before his parents. Anthony died last year aged 59.
'Daddy's girl'
Our mum has been deprived of spending her later years with her husband and is saddened by the fact that she was unable to experience these times together.
Instead, our mum is only left with her memories of when she first met our dad, the fondness she was shown by his family and all our memories together.
Our dad used to often tell our mother that he couldn't wait to have grandchildren and look after them. He would talk about taking them to the pier and on the ferry, the things he did with us as children.
This was taken away from him and our mum longs to have those days with him and their grandchildren, my daughter Cherine and my brother's two children, Ian and Bailie.
As the only girl, I was a real daddy's girl and he used to take me everywhere he went. He used to always say that he would give me a big white wedding one day, that every daughter dreamt of, but that day never came and I have never been able to get married as it is something I will never be able to do without my dad.
My dad now has a beautiful granddaughter, Cherine, whom he would be very proud of. My daughter Cherine will make a beautiful bride one day and I will make sure she has the wedding I always wanted, with her dad there to give her away.
'Sad look'
I would like to tell you a short story. I don't want to read it from the pen portrait because it sounds a bit formal, so I'd like to tell you this in my words, my way and how I feel.
A week before Hillsborough, I met a friend in town and we went for a few drinks. We didn't stay out late, and I got a takeaway on the way home. When I arrived - I was still living at home at the time - Dad was sitting in the house at the table having a meal, and I joined him.
We were having a little chat. I don't know what it was, but Dad just seemed to have this sad look in his eyes, this sadness all over him. I don't know why, because there was nothing for him to be sad about.
I picked myself up from where I was sitting and went around to dad and I put my arms around him and he looked up at me, and I said, "Dad, I know I don't tell you this often, it's just not my way, but I really love you, always remember that, Dad".
Dad burst into tears and I was really taken aback. I had only seen my dad cry two times in his life, when he lost his brother when he was very young and when his mum died.
We never loved anyone as much as we loved our dad. He was always there for us, to protect us, guide us, and advise us.
I wanted just that one time to be there for him, when he was lying on that pitch on his own, to hold his hand like he held my hand through my life, and we weren't, none of his family were, and we have to live with that every single day.
Members of the jury, we would like to thank each and every one of you for taking on this very difficult task. We want you all to remember that my dad is not a number, he is Henry Thomas Burke who went to watch his beloved Liverpool and never came home.