Wiltshire Police officer cleared of Taser assault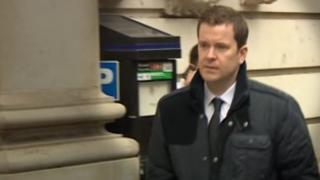 A police officer who used a Taser on a naked man who threw his underpants at him has been cleared of assault.
Wiltshire PC Lee Birch, 30, fired the stun gun into Daniel Dove's chest during a strip search at Melksham Police station in December 2012.
Mr Dove, 24, was arrested for being drunk and disorderly and assault, but the case was later dropped.
The jury at Bristol Crown Court also found the officer not guilty of misconduct.
It took the jury of six men and six women just more than an hour to acquit unanimously PC Birch.
The jury had heard Mr Dove had been arrested after a disturbance outside a nightclub in Trowbridge.
Took off boxer shorts
PC Birch had told the jury that Mr Dove "appeared to be drunk" and he considered the threat posed by him was "extremely high".
The court had previously heard that during the strip search in a police cell Mr Dove took off his boxer shorts and flicked them at the officer, hitting PC Birch on the side of his face.
CCTV footage of the incident shows PC Birch ripping the boxer shorts from Mr Dove and throwing them against the wall of the police cell.
He fired his Taser and then shouted "you have assaulted me for the second time".
Mr Dove was left "prostrate on the ground" while PC Birch removed the prongs of the Taser from his chest.
Speaking outside court, Ch Supt Paul Mills from Wiltshire Police said: "The use of Taser is one of a number of tactical options available to selected officers who have undertaken rigorous training and assessment.
"During their training it is highlighted to officers that the level of force used must be reasonable and necessary to achieve the purpose.
"Officers are individually accountable for the amount of force they use on a person and will always have to justify their actions as being necessary and proportionate under the law."
Mr Mills added the Independent Police Complaints Commission (IPCC) had begun an investigation into whether PC Birch "breached the standards of professional behaviour expected of all police officers".
He added that Wiltshire Police had commissioned an independent peer review by the College of Policing in relation to the force's Taser policy and procedures.
Mr Mills added that the force had now rewritten its Taser policy in light of the review and changed its selection process for Taser-trained officers.
He added: "I also wish to emphasise that the safety of all detained persons in our care is of paramount importance and taken very seriously indeed by the force."
A spokesman for Wiltshire Police said PC Birch had remained on duty since the incident and throughout the trial, and had never been suspended from duty.