Seventh Heaven for West Midlands Euro election hopefuls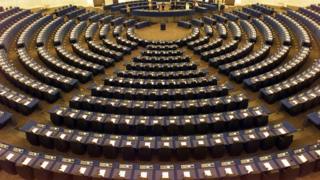 The World's Favourite Number?
And the winner is... cue the drum roll please... the number seven.
I am not sure whether it is all down to Snow White's dwarves or the "Magnificent" contingent of the same number. Or perhaps Strictly Come Dancing's Len Goodman has something to do with it.
Seven is the number which came top of a global online numerical pop chart, an online survey published recently by the British-based author Alex Bellos.
It certainly chimes with the aspirations of at least some of the candidates listed by the 10 parties fielding full slates of candidates here in the West Midlands.
And how many are there on each of those slates? Seven, naturally.
You can see them all for yourself here on the BBC Politics website.
Strange though it may seem, there is an even bigger reason why a key contest this time will be the battle for seventh place.
Two-seat benchmark
In the last European elections five years ago, six West Midlands seats were contested. But thanks to the Lisbon Treaty, our contingent was increased by one, to seven - that's why the Conservative Anthea McIntyre, who finished seventh in 2009, finally took her seat halfway through the parliament.
This time round, the benchmark for the Conservatives, Labour and UKIP will be to secure two seats each. Just one would be a disastrous under-achievement, while three would be presented as a triumph, a clear-cut West Midlands victory.
This is why UKIP, currently riding high in the polls, see an objective of their campaign here is to try to get Bill Etheridge elected. He ranks third on their party list so he will be hoping to secure that final, seventh, West Midlands berth in the new parliament.
Vying with them for that coveted seventh spot will be three parties locked in an equally intense struggle themselves.
The incumbent Liberal Democrat MEP Phil Bennion will be battling to retain his seat and do his bit to help his party avoid the dreaded whitewash.
He'll be up against two of his fellow MEPs in the outgoing Parliament, both of whom were elected for UKIP but who have since parted company with Nigel Farage's party.
An Independence from Europe Party is headed by Mike Nattrass, who has served two five-year terms in the Parliament. AIP for short, it will appear at the top of the parties listed in alphabetical order on West Midlands ballot papers.
Attention will inevitably focus on whether or not he succeeds in drawing support from UKIP, following his failure to be reselected as one of their candidates this time.
Referendum call
The We Demand a Referendum Now Party is headed by Nikki Sinclaire MEP.
Her online petition was instrumental in forcing the parliamentary debate which ended with David Cameron becoming the first Conservative prime minister to be defeated in the Commons on the European issue.
She now argues that Mr Cameron's pledge to hold a referendum in three years' time if re-elected is unreliable, so her campaign calls for one as soon as possible.
Heading the Green Party's list of candidates is their national deputy leader Will Duckworth.
He is one of 20 councillors on 10 local authorities. That's their highest-ever West Midlands total. They are hoping they may even become the official Opposition in Solihull.
Meantime, the BNP will be battling to reverse the sharp decline in their fortunes since they polled more than 8% here in the 2009 European elections. They currently have no councillors in any of our local authorities.
No2EU is headed by the former Labour Coventry MP and city councillor Dave Nellist, who now belongs to the Socialist Party.
And the English Democrats are campaigning with the argument that England is the largest country in Europe without its own parliament.
The cross-currents and counter-currents flowing between each of these parties could well exert a significant influence not only on their own fortunes but also on those of the bigger parties.
If the opinion polls are anything to go by, the Conservatives will be battling to avoid finishing third.
Their list is headed by two incumbent MEPs, Philip Bradbourn and the aforementioned Anthea McIntyre.
The pollsters think Labour, headed by the former MEP Neena Gill and the former Birmingham Erdington MP Sion Simon, will be contesting first place with UKIP, headed by the chair of Kynnersley Parish Council in Shropshire Jill Seymour and the bespoke umbrella-maker Jim Carver.
But who'll be under a storm cloud and who'll have a place in the sun after the votes have been cast on Thursday, 22 May and counted on the Sunday, 25 May?
For the three leading parties, much will depend on whether or not any of them can outperform that two-seat benchmark I mentioned at the beginning.
Which in turn brings us back to where we began - the race for seventh.