East Midlands Airport flights suspended after problem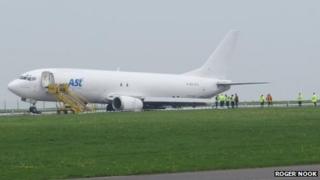 All flights in and out of East Midlands Airport have been suspended after problems with a cargo plane during landing.
Freight company Air Contractors said one of its planes, a Boeing 737-400, suffered a landing gear failure at East Midlands Airport at about 03:00 BST.
Two crew members were on board but neither was injured.
Airport officials said they did not know what time the airport would reopen.
In a statement on its website, Air Contractors said: "The left-hand landing gear of the aircraft suffered a failure after the aircraft had successfully landed and whilst slowing for taxi off the runway.
"The runway remains closed whilst technical examinations take place, but the aircraft will be removed as soon as possible."
Investigators from the Air Accidents Investigation Branch (AAIB) are at the airport and passengers are advised to contact their airlines before travelling.
Wendy Bird, from Castle Donington in Leicestershire, was supposed to be flying to Majorca to meet a cruise ship.
"We were due to get to Palma at about 10:00 BST and get on the cruise ship at about midday.
"Fortunately I don't think it leaves until later today so we'll just have to wait and see."
'Very large aircraft'
Jet2 and Thomson have been bussing passengers to other airports for alternative flights.
Ryanair, the airport's biggest carrier, said all affected passengers could transfer free of charge to the next available flight or apply for a refund.
East Midlands Airport spokesman John Greenway said everyone was working to reopen the airport as soon as possible.
"We have to make sure it is all safe, particularly on the airfield," he said.
"You need a very large vehicle to move a very large aircraft and as an airport, we are keen to get things open as soon as possible."
The airport currently serves about four million passengers and handles 300,000 tonnes of freight each year.